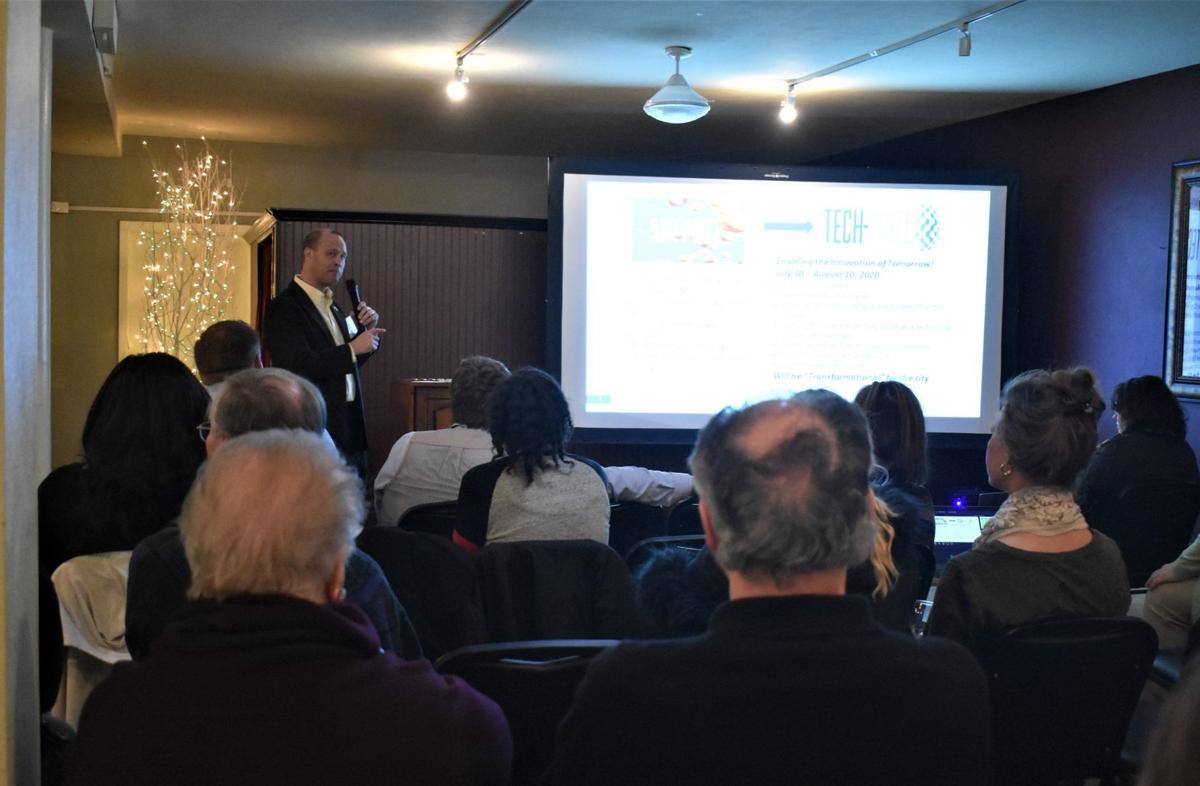 RACINE — A new initiative called Tech-Prize aims for nothing less than to bring back to Racine bragging rights as "Invention City" and make it a burgeoning hub for new entrepreneurship.
Tech-Prize, a wide-ranging event being planned by Visioning of Greater Racine, was introduced Thursday evening to more than 100 people at a launch party above Uncorkt, 240 Main St. Tech-Prize is the brainchild of VGR's Thriving Economy Work, Action, Vision and Engagement Team, formed just under two years ago.
Tech-Prize will stretch over 12 days this summer, July 30-Aug. 10. It will feature numerous competitions, public and private voting for the best ideas, workshops and community events. There will be idea competitions for students as young as third grade.
"The goal of the Tech-Prize events (is) to enable a thriving economy in Racine giving resources to the local community and giving opportunities to turn ideas into reality," stated a program description. "Racine has a long history of innovation, and we want that history to return making Racine Innovation City once again."
Tech-Prize is modeled on Artprize, a successful 19-day competition held in Grand Rapids, Mich., that draws 30,000 visitors daily and an estimated $30,000. The goal of Tech-Prize organizers is to draw 5,000 visitors each day and generate $3.5 million for the city.
"The potential of Tech-Prize is vast," said Ray Koukari, Dean of Gateway Technical College's School of Manufacturing, Engineering, and Information Technology.
"As this event gets bigger each year, more people will want to come to Racine and be a part of the excitement of a growing technology-driven community," he said. "Word has gotten around that we are the next 'Chattanooga,' we won the Smart City competition, companies are moving here, and professional talent is needed to sustain them. Gateway Technical College and UW-Parkside are delivering on programs needed by these businesses; however, we can't fulfill the numbers needed.
"That is where Tech-Prize comes in, and with families visiting Racine, learning about our great beach, learning about our gaming opportunities, learning about our educational programs, it will bring these entrepreneurial pioneers to Racine and make it a place where you want to live, work and play."
Jeff Daniel, most recently of Johnson Controls and who heads up sponsorships for Tech-Prize, said: "Existing business groups will invest to grow, and new groups will then come here because we have those skills in place and are ready to put them to work."
Seven tracks
Daniel said Tech-Prize will build over time toward creating a thriving Racine-area economy: "As it builds, we would expect to have significant impact on graduation rates, unemployment, the kinds of industries available to work in, average wages going greatly up and tax revenue growing for the community."
Tech-Prize will have seven tracks:
Biz-Shops, consisting of workshops and presentations for business start-ups, from Aug. 1-8 in Downtown Racine. Topics will include intellectual property, financing, business plans and pitches and opportunity zones;
Ideas, a competition for the duration of Tech-Prize in Downtown Racine. Participants can range from third grade through university, and there will also be an open class. Judging will be both public and juried with prizes of cash, investment and jobs/internships'
Esports, as team competitions on Aug. 3 and 4 at Not Your Parents Basement gaming lounge, 410 Main St. It will offer prizes of cash, scholarships and internships;
Coding, a team competition on Aug. 5 and 6 at Gateway Technical College to create the best app for a smart city need. Judging will be juried, and cash, scholarships and jobs/internships will be offered as prizes;
Pitch, in which groups or individuals will present ideas ready for investor participation, at Gateway on Aug. 7 and 8. Venture capitalists will listen to pitches which could then lead to investment and mentoring. This competition does require submission and preapproval;
Tech-shops, educational workshops about technology. These will be held in Downtown Racine Aug. 1-8 and be open to youths and adults. Topics will include coding, the innovation process, automation and skills for tomorrow; and
Community events: 12 days of free, family-friendly activities focused on technology, to celebrate Racine's spirit of innovation. Activities will be held in Downtown and around the community.
"The Tech-Prize process is designed to launch in a scaled fashion," Daniel said. "We are not looking to boil the ocean' immediately. We want to walk into this in a way that everyone can see the benefit, see how they can participate, and get involved because they want to make our community great and become energized to make improvements … the immediate focus is to leverage the Smart Cities initiatives."
More expectations
Uncorkt owner Tony Bigonia, who oversees Tech-Prize, said Friday: "In the near term it will get youth involved in coming up with innovations for Racine and for the world. They have got ideas, and we want to give them the tools to bring them forward."
He predicted it will bring innovators to Racine to build their inventions here and help companies find new talent.
Local businessman, software developer and entrepreneur Rick Onyon said Tech-Prize "should be viewed as the beginning of a marathon (not a sprint), in that we will need to continue investing in education, hands-on programs and awareness each year ongoing.
"It's difficult to predict the impact in the short term — but we believe that in time the positive impact could be a total game-changer for the community, bringing innovation (invention) back to Racine together with new businesses and higher-paying jobs. We just need a few sparks to take hold."
The age of invention: Products invented in Racine County
Panoramic camera
PANORAMIC CAMERA: In 1896, Burlington's Peter Angsten invented a camera with a spring-propelled pivoting lens that captured 180-degree images. The Al-Vista camera was built at Angstens Multiscope and Film Co. in Burlington until 1908, when the Kodak Co. ceased making film for it. Angsten sold his interest in the camera for $3,400, and various forms of the camera have been made since.
Malted milk
MALTED MILK: Everyone knows the Horlick Malted Milk Co. developed the process to dehydrate milk, but did you know what William Horlick's motivation was for the product? No, it wasn't creamy milk shakes. It was to provide a food for babies and sick people that could be shipped without spoiling. The granulated infant food was patented in 1883 and later became the impetus for an entire soda fountain industry.
Automobile
AUTOMOBILE: According to the "Grassroots History of Racine County," the first automobile in the world — that's right, the world — was made in Racine. It was a steam-powered vehicle called The Spark. Dr. James W. Carhart built it and was driving it around the Belle City in 1873.
Carhart was invited to show his creation at a 1908 exhibition of automobiles in Paris, but the car had been dismantled and used for other purposes. At the exhibition, Carhart was addressed as the father of automobiles. The oldest car at the Paris show was 16 years old; Carhart's would have been 35.
The local auto heritage continued with cars made by the Mitchell Co. and the J.I. Case Co.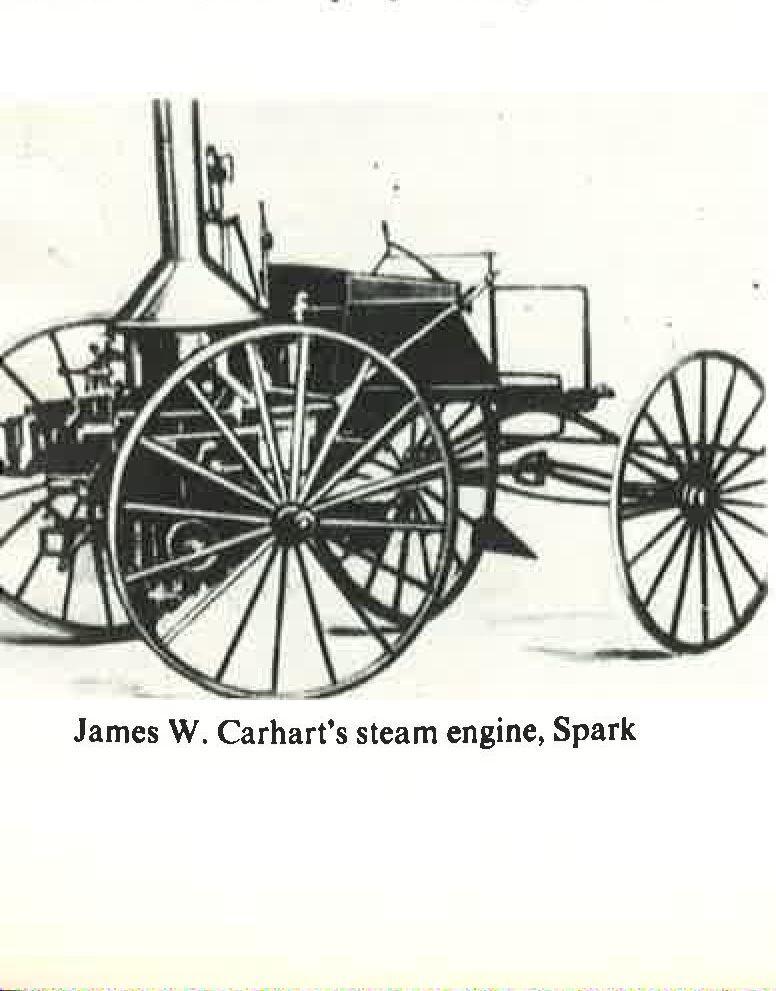 Blender
BLENDER: Think blender and the names Osterizer and Waring come to mind. While both products were first made here, the inventor was Steven J. Poplawski. In 1922, he came up with the idea of putting a spinning blade at the bottom of a cup to make soda fountain drinks. That idea was turned into a commercial success in the late 1930s by big band leader Fred Waring, who marketed the Waring Blendor, and Racine inventor Frederick Osius.
Universal motor
UNIVERSAL MOTOR: It's hard to imagine, but when electricity was in its infancy, there were battles over what type of current would become the standard in American homes. Racine inventor Chester Beach saw the sparks flying and invented the first motor that ran on both alternating and direct current. With Louis H. Hamilton, Beach developed a fractional horsepower motor that would eventually power just about every kitchen convenience product. Just after the turn of the century, Hamilton Beach's Home Motor was being attached to sewing machines. By 1919, several attachments turned the motor into a grinder, buffer, fan and mixer.
Blenders, sewing machines, mixers, vacuums, toasters and irons are just a few of the products Hamilton Beach made available to the world.

Manual and electric hair clippers
MANUAL & ELECTRIC HAIR CLIPPERS:In the early 1920s, Racine inventors must have been thinking a lot about grooming habits. Hometown entrepreneurs Mathew Andis and John Oster developed a hand-operated hair clipper to touch up the popular bobbed haircuts of the day. Soon barbers everywhere were clipping away with their sartorial device. Andis also developed an electric clipper that remains the industry standard. The Andis Co., 1800 Renaissance Blvd, Sturtevant, still makes clippers today.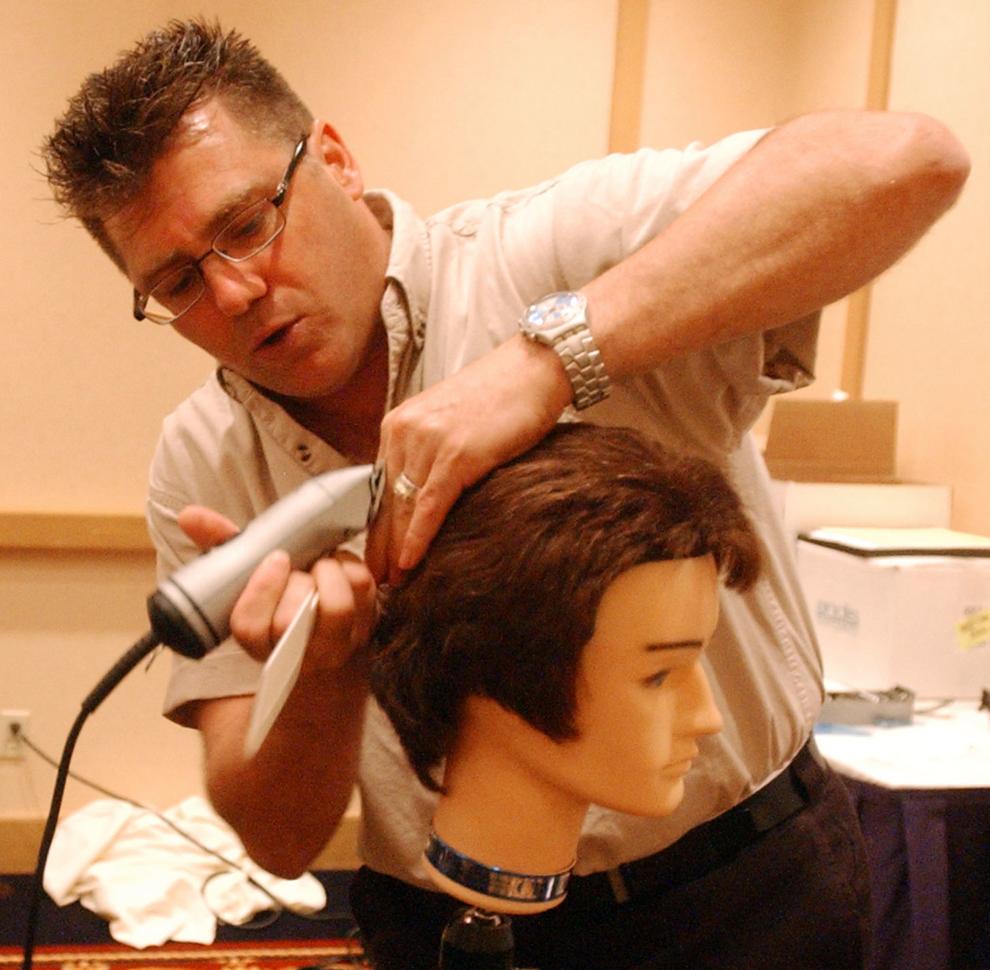 Portable vacuum cleaner
PORTABLE VACUUM CLEANER: Until Frederick Osius came along, vacuum cleaners were monstrous machines built into the basements of large buildings, using hoses to reach into individual rooms. Osius used a small electric motor being developed in Racine to make the first portable vacuum cleaner. He sold his business in 1910 for $300,000 to the McCrumb-Howell Co. and started the Hamilton Beach company. He went on to develop a name brand known around the world for home labor-saving devices. The national vacuum cleaner museum in the Pacific Northwest recognizes Racine as the home of the first easily portable vacuum cleaner.
Lollipop machine
LOLLIPOP MACHINE: When an East Coast candy maker wanted to find a way to put hard candy on a stick in 1908, the Racine Confectioners Machinery Co. answered the call. The local company invented a machine to automate the process of making suckers, fast becoming a favorite candy treat. The machine could make 40 lollypops a minute, and the candy company figured it could produce in a week all the suckers it could sell in a year.
Power mower
POWER MOWER: Albert J. Dremel's name is usually associated with small rotary grinding tools still sold under the Dremel name in Racine. But perhaps more significantly, the local inventor is credited with designing the first lawn mower integrated with a specific gas-powered motor. After designing the first wringer as chief engineer for the Maytag Co. in Iowa, Dremel moved to Racine in 1921 and created his mower.
He sold the concept for the reel-type mower to Jacobsen Manufacturing Co. and the 4-Acre mower was produced. Named because it could mow four acres of grass in a day, the machine sold for $275 and was used mainly on golf courses and large estates. Jacobsen went on to produce the first mower for the masses in 1939. Homeowners could buy the Lawn Queen for $87.50.
Garbage disposer
From his basement workshop, local architect John W. Hammes built his wife the worlds first kitchen garbage disposer in 1927. After spending 10 years perfecting his device, Hammes sold 52 handbuilt disposers during his first year of business in the late 1930s. From his invention grew the In-Sink-Erator Manufacturing Co. Half of the homes in America have a garbage disposer. Half of those disposers are In-Sink-Erators.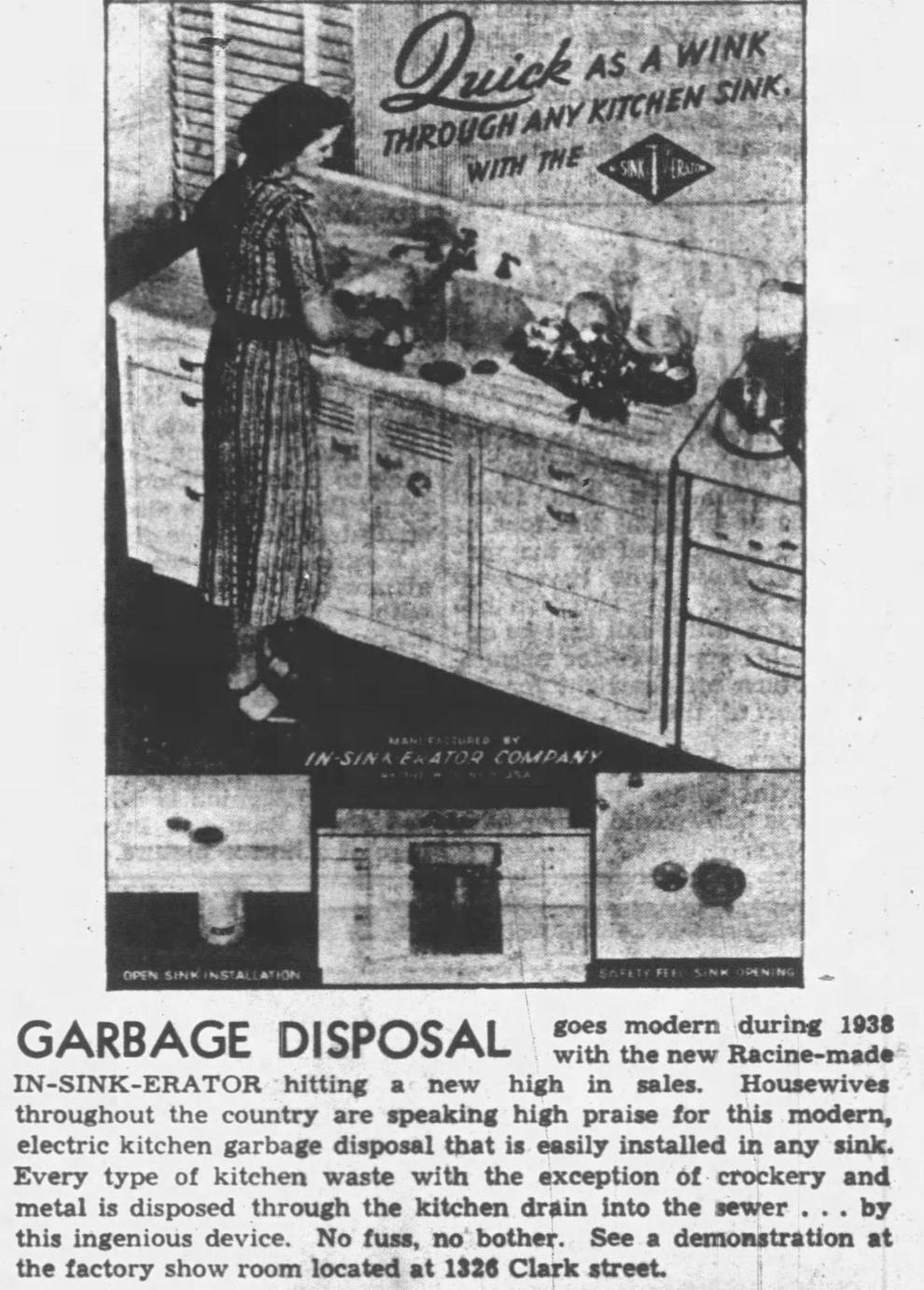 "The potential of Tech-Prize is vast." Ray Koukari, Dean of Gateway Technical College's School of Manufacturing, Engineering, and Information Technology
"The potential of Tech-Prize is vast."

Ray Koukari, Dean of Gateway Technical College's School of Manufacturing, Engineering, and Information Technology