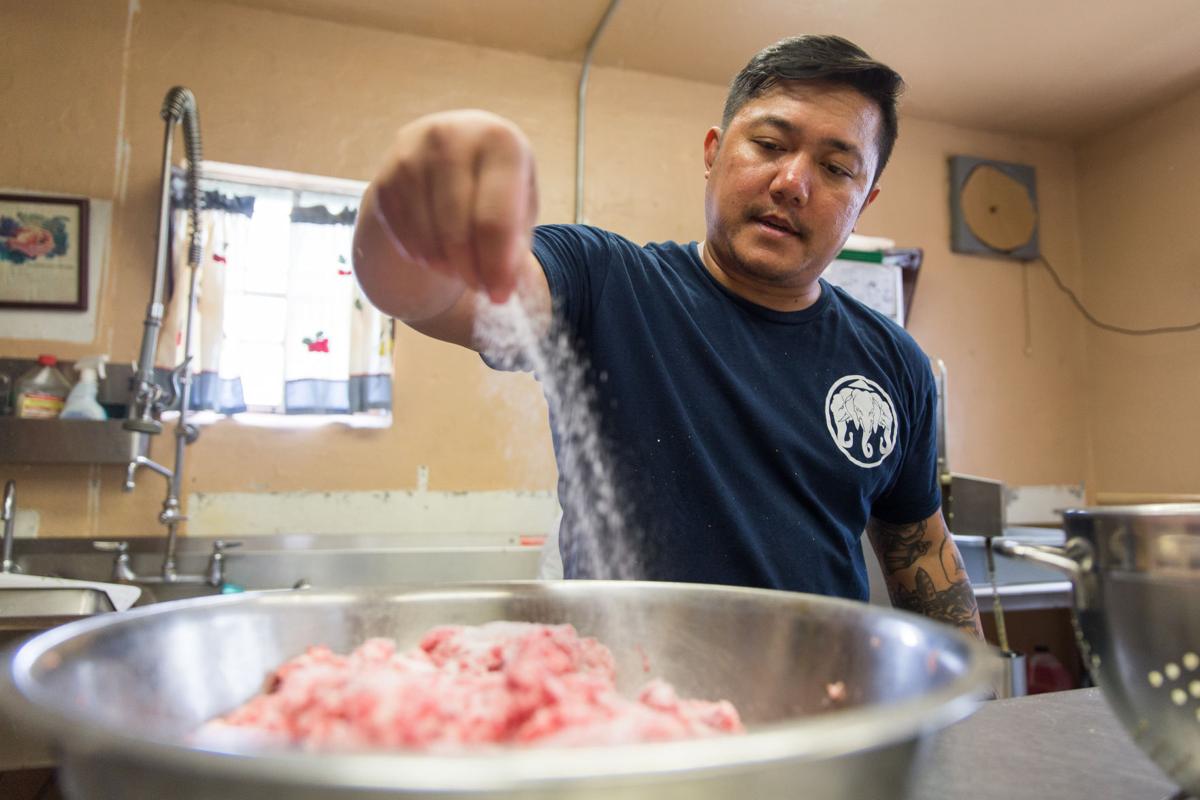 STURTEVANT — When Alex Hanesakda grew up in Burlington, he was into sports, breakdancing and hip-hop. His mother would sometimes cook up some homemade eggrolls to sell around the neighborhood for a little extra money, but that was about as involved in the food industry as he got.
That is, until people started asking about his mom's eggrolls.
"That sparked a lightbulb in my head," Hanesakda, who now lives in Sturtevant, said. In 2011 he entered his mom's eggroll recipe into an eggroll contest at Milwaukee's Asia Fest and took first place. And just like that, Mamma's Eggrolls was born.
Hanesakda was happy with his success, but wanted to expand. But to do so, he felt he needed to create a separate line to continue honoring his mother's original recipe under the Mamma's Eggrolls name. So, he went into the sausage business when he created SapSap in 2017.
Everything Hanesakda makes, whether it be SapSap's sausages or Mamma's Eggrolls, channels his culture. His family came to Burlington in 1982 as refugees from Laos, sponsored by Burlington's Cross Lutheran Church.
In fact, even the SapSap name acts as a Laotian connection: "Sap sap" is a common phrase in the culture that translates into "delicious delicious."
"If the food's good, they say 'sap sap,'" Hanesakda said.
SapSap is focused on wholesale and is available in select grocery stores. In Racine County, the sausages are sold at Malicki's Piggly Wiggly in Mount Pleasant and Gooseberries Fresh Food Market in Burlington.
There is just one variety of sausage right now — kaffir lime, a type of Asian citrus fruit — but Hanesakda said he has plans to expand SapSap's offerings. Mamma's Eggrolls are not currently sold in stores.
Pop-up dinners
Since last February, SapSap has also hosted monthly pop-up dinner events at Yuppie Hill Poultry Farm in the Town of Spring Prairie, just west of Rochester's Honey Lake area, called "Pho on the Farm." During these events, Hanesakda cooks up a four-course meal of family-style Laotian cuisine in a casual BYOB setting. The menu is different every month but incorporates SapSap items.
Pho on the Farm has been a hit, Hanesakda said, adding that the event is sold out through August.
"It's been pretty cool," Hanesakda said. "It boggles my mind still how we sell out like that."
Laotian food is similar to Thai food but is beginning to differentiate itself as people become more aware of it, Hanesakda said. Most Americans would probably be familiar with sticky rice, which is one of the culture's staples.
But there is more to Laotian cuisine than that, and Hanesakda is trying to make that fact known. At the end of the day, his mission is to spread Laotian culture and cuisine the best way he knows how.
"I'm not a chef, man," Hanesakda said. "People call me a chef. I just like to cook food ... If I can share my experience through food, that's my dream job."
"People call me a chef. I just like to cook food ... If I can share my experience through food, that's my dream job." Alex Hanesakda, eggroll entrepreneur
"People call me a chef. I just like to cook food ... If I can share my experience through food, that's my dream job."

Alex Hanesakda, eggroll entrepreneur