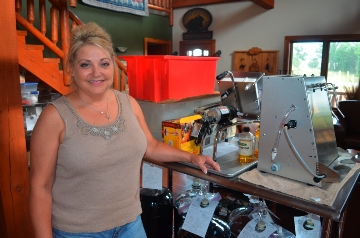 TOWN OF NORWAY — Driving up to Randy Larson and Sandy Johnson's 15-acre homestead, it's clear something special is happening there.
Half of their 2-acre front yard consists of long, straight, cultivated rows punctuated by wooden poles, and those poles are connected by wires.
Spirits of Norway Vineyard, an idea that began to germinate last fall, is already well under way at 22200 W. 6 Mile Road. Larson and Johnson expect to begin harvesting grapes in two years and start selling their own wines there in two to four years.
Oddly, what will eventually be a full-fledged vineyard started as Johnson's wish to plant a simple vegetable garden.
"I hadn't grown one in 20 years," she said. So, last fall she asked Larson, her fiancé, to till a garden plot for her.
Larson, owner of home-based Purpose Contracting, said that when he heard Johnson's request, "I said, 'I've always liked grapevines.' "
Johnson thought that sounded like "fun." And at that moment her wish for a garden veered off in a wildly different direction.
"Now," she said, "there's no garden, I have one tomato plant hanging out there, and the cow ate half of it."
While their vineyard idea was still in its infancy, the couple said, they were encountering numerous Scriptural references to vineyard owners. They viewed that as a sign they were taking the right path.
The idea quickly grew in scope. "When Randy does something," Johnson said, "he does it big."
The couple were wine aficionados, but Johnson had never made wine before they conceived their vineyard idea. She got instruction at the Purple Foot in Milwaukee, a seller of wine-making supplies.
"I brought Randy back and he said, 'Let's go; let's get started!' " They came home with everything they needed to make wine.
Johnson's first batch was from a kit, "and you can still fail miserably doing that," she said.
However, from the start she tasted success. In that first batch she made a Chardonnay, a Trinity red and a black-raspberry Merlot. They earned her three ribbons — two second-place and one third-place — in the Wisconsin State Fair's amateur wine-making competition.
Johnson no longer relies on wine-making kits. About making wine, she said, "It's like working in a chemistry lab. ... I love chemistry."
The name Spirits of Norway was her inspiration. The Town of Norway couple find multiple meanings in both halves of the name, including the fact they both have Norwegian blood.
The vineyard is being planted over a three-year period in a former hay field directly out the couple's front door. Larson said the site benefits from rich, black peat soil; plenty of slope; a generous wind; and full sun. "And it's close to the house."
A total of 700 vines will be planted. That's enough to annually produce 3,500 bottles of wine, the couple said.
They chose three cold-climate grape varieties: Marquette and Petite Pearl for red wines; and Brianna for white wines.
The economy will determine when they build their 30- by 50-foot winery next to the house, but it's coming, Larson and Johnson said. The outbuilding next to the house will become a wine-tasting barn. The demand by Wisconsin wineries for in-state grapes is greater than the supply, the couple said. So, until it's production time at home, they will sell their grapes to other Wisconsin wineries.
- A grapevine yields a full crop in five years.
- Vines can live 50 to 100 years.
- Each vine can produce 10 to 20 pounds of fruit annually.
- Each vine can produce about five bottles of wine annually.