RACINE — A Dallas developer is planning to build a $48 million, 174-room Sheraton Hotel that would connect with Festival Hall and provide Downtown the convention center it has long sought.
Mayor Cory Mason, along with David-Elias Rachie, a principal of Gatehouse, jointly made the announcement at City Hall on Friday morning. They also shared images of the planned six-story hotel that would be constructed directly south of, and connect with, Festival Hall.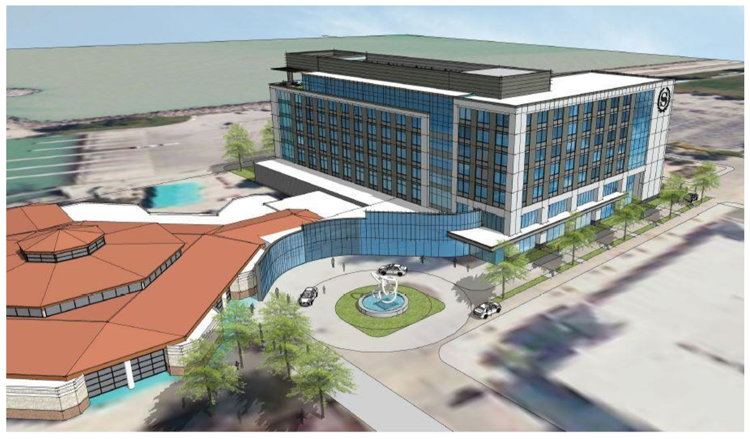 Mason and City Administrator Jim Palenick said the City of Racine would own the entire first floor of the hotel and that it would increase the available convention/event space from about 17,000 square feet now at Festival Hall to about 27,000 rentable square feet, an increase of 58.8 percent. The area is currently being described as the Racine convention center.
The new hotel also would offer something Festival Hall does not: multiple meeting rooms that can be sectioned off or put together to open up larger spaces.
"(Festival Hall) doesn't function as a convention facility," Palenick said. "We don't have meeting rooms, breakout rooms, banquet facility, prefunction space, all the things that you'd see in an actual convention center."
Mason said: "If you needed to do a trade show, our space (Festival Hall) is really good for that. But if you needed to do breakout rooms or banquet hall sort of stuff, it's got limitations. So this would allow us to do both.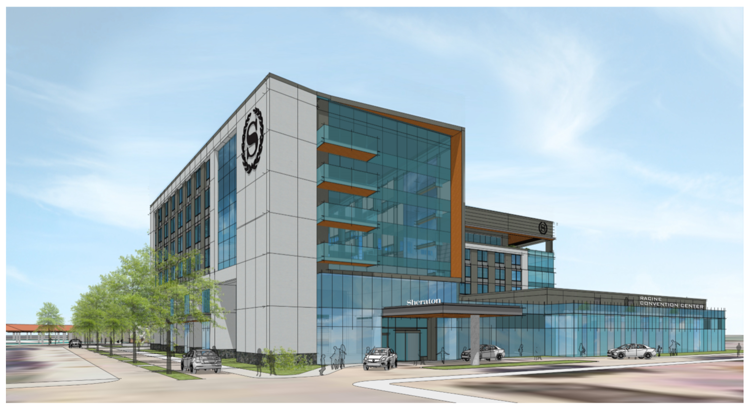 "That's our public investment, to be able to have that space available."
The city will continue to own the land and everything on the first floor and lease the "air rights" above it to Gatehouse to build and operate a hotel, Mason and Palenick said.
The city also would lease the first-floor space to the hotel operator so that it will be operated as an integrated hall between hotel and convention center, Palenick said.
Gatehouse returns
Palenick said that Gatehouse, which also has a Minneapolis office, was one of several potential developers that looked at the Lake Avenue site once proposed for a convention hotel and arena. But, he said, Gatehouse did not see the city's idea as appropriate and proposed something closer to the current proposal. Because the city was not heading in that direction at the time, Gatehouse stepped out of the picture.
After Mason vetoed the Lake Avenue arena/convention center hotel idea, Palenick said, "we went back to their original proposal and said, you know, there's a certain amount of merit to what they were saying; let's contact them and see if there're some kind of a project that could be talked about or come together from this. And that's how it got started."
Mason added: "This was one of the criticisms that was there during the initial discussion on the previous proposal was people saying: Shouldn't you shore up Festival Hall and have that be a more meaningful space to accomplish these goals — as opposed to another whole facility? So, this (proposal) certainly does that."
"We were always impressed with Festival Hall," Rachie said. "We saw that as a great foundation to start a convention center for Racine … one of the things that we looked at right away, we said: Well, they built phase two of a great convention center, but they missed phase one."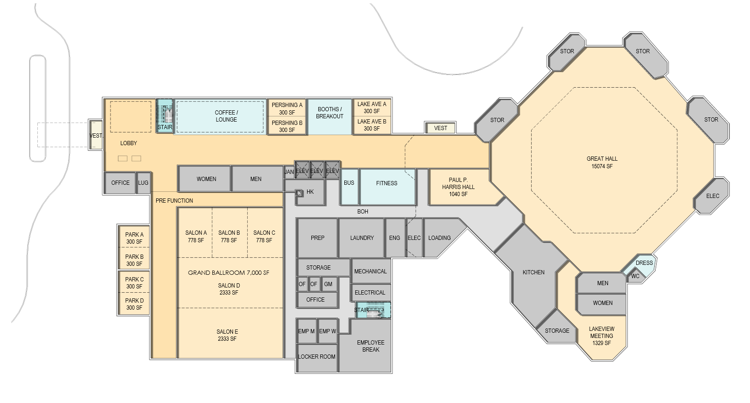 You have free articles remaining.
"And why you need something like that," Rachie continued, "is: You need the back of house to support a large convention. We see these anywhere from 1,000 to 2,000 people.
"And as a wedding venue, it's really hard to have a wedding in Festival Hall. It's a wonderful spot, great views, but if you have 200 people, that gets a little lost in there. So we really have a couple of places that you can either have a small, intimate wedding to mid-size and also very large. So that'll be a big part of the business on the weekend. And then, during the week, we fill those in with convention-center activities that are typical for businesses."
More than 174 rooms possible
Rachie said Gatehouse has done more than $1 billion in development projects, all in the hospitality industry. This project may cost as much as about $54 million, he said.
Although the Sheraton will have at least 174 rooms, it may have more than that, by making it even more than six stories tall, Rachie said.
Friday's announcement follows another, in mid-May, that Hovde Properties of Madison plans to build 190 apartments and a hotel of about 100 rooms at 233 Lake Ave., about two blocks from the Festival Hall parking lot.
Asked if the market can absorb that many new hotel rooms — with the DoubleTree Inn also in the vicinity — Rachie replied: "We have room to put up to 1,500 people for a convention, up to 2,000 we could get in there; we don't have close to enough rooms for that … people want to be right in that area."
Gatehouse may be building the hotel at 233 Lake Ave. for Hovde, Rachie added.
Rachie said that according to a study performed about a year ago, this project would have about $130 million in financial impact on the city over the first 10 years.
The future hotel's top floor would have a large bar/restaurant and patio facing the lake. It also would have an observation deck — possibly on the roof — which would be open to the public during business hours.
The Sheraton's rooms will draw a premium of about $30 to $40 over what the DoubleTree Inn, 223 Gaslight Circle, would charge, Rachie said. Gatehouse would hope to get more than $200 per night and, for some rooms with lake views, possibly up to $300.
Parking spaces
The hotel and convention center would occupy most or all of Festival Hall's metered parking lot, thus blotting out those 88 parking spaces. But immediately west of the site is the Lake Avenue parking ramp, with 374 stalls, which Mason said is underutilized.
"We have more than our fair share of parking lots with amazing Lake Michigan views," Mason said. "And I would argue that there's probably better redevelopment uses for Lake Michigan views than parking lots."
The hotel would leave the Pershing Park boat launch untouched, but Mason said he was unsure whether the hotel would mean the loss of the Dr. Laurel Salton Clark Memorial Fountain.
Officials said the city would participate in financing the project by negotiating financial incentives, just as it did with Royal Capital Group for the planned @North Beach development. Palenick said city officials expect to create a tax increment district there to enhance the city's ability to participate in the project costs.
Gatehouse would like to start building the hotel next year, Mason said. Rachie said it would be about an 18- to 24-month construction project.
"We have more than our fair share of parking lots with amazing Lake Michigan views. And I would argue that there's probably better redevelopment uses for Lake Michigan views than parking lots." Racine Mayor Cory Mason
"We have more than our fair share of parking lots with amazing Lake Michigan views. And I would argue that there's probably better redevelopment uses for Lake Michigan views than parking lots."

Racine Mayor Cory Mason