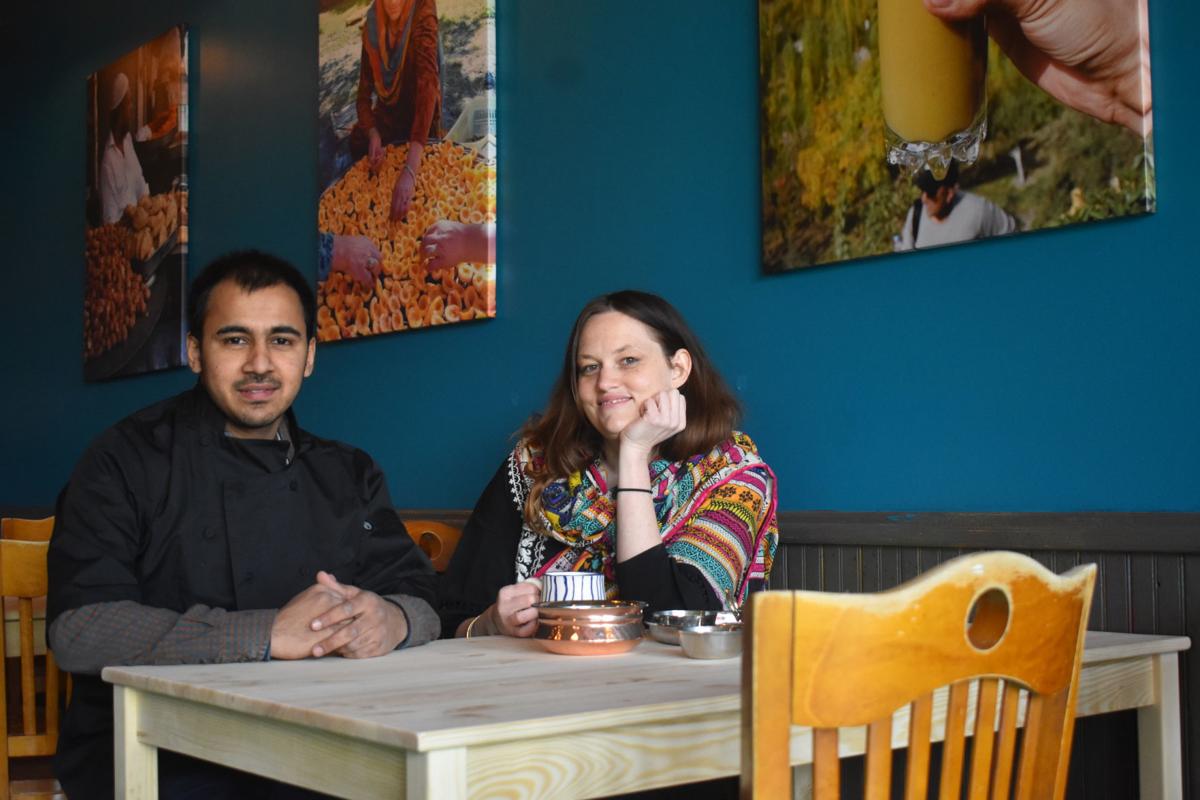 RACINE — If the food is as good as the name is clever, Downtown's coming Pakistani restaurant should be great.
A local couple are readying the former Out of the Pan restaurant, 550 State St., to open soon as Chit Chaat. It will be part chai tea and espresso bar as well as Pakistani lunch and supper restaurant, with supper dishes served tapas style.
The local couple behind the venture are Pakistan native Junaid Shafique, 25, who came to this country last July, and his wife, Angela Downs. As head chef at Chit Chaat, he will be leaving his job as a mechanical assembler at Putzmeister North America, and she will be leaving a job at Ascension All Saints Hospital to work at the restaurant full time.
Downs and Shafique, who married three years ago, met while both were working in Japan. She was teaching English and he was working in a factory.
Downs has a long history in the retail food and beverage business with Starbucks. She started while still in high school, helping to open the Starbucks café inside the local Barnes & Noble Booksellers store.
Downs then became the manager of a Starbucks in downtown Chicago, next the manager at the Red Arrow Starbucks in downtown Milwaukee, helped open the Starbucks at 5658 Washington Ave. and later became manager there.
Even when she took that first Starbucks job, Downs said, "I was so excited they were open way back then because I already had the passion inside of me that I wanted to have my own café one day."
She said Starbucks taught her how to run a successful business, do the coffee business and more.
"When I met Junaid, you could say our dreams collided," Downs said, "because I had this coffee dream, and he was an excellent chef." She said he had learned both from his mother, then took it further on his own.
Authentic chai
You have free articles remaining.
From Shafique, Downs said, she has learned about the authentic chai tea that can be found in the roadside stalls in India or Pakistan. "It was a new level of chai for me," she added.
To make their chai, they cook all the spices and fresh herbs together with tea and sugar, Downs said, adding, "a drink loved by millions on the other side of the world, you know?"
Initially, they thought of opening a chai bar but then decided they also needed to have classic coffee drinks, and have an espresso bar coming from Italy. They will buy fair-trade coffees, teas and spices, as much as possible.
"Chaat" (rhymes with hot) means "savory snack," Downs explained. "And that's quite common in Indian and Pakistani street food," she said. If something is served chaat, it comes covered with foods such as chickpeas, yogurt, chutney and onions. "It just comes smothered in savory," she said.
The Chit Chaat space already had a full commercial kitchen, but the couple have added a tandoori oven.
"I think what makes us different from other, like, Indian restaurants," Downs said, "is that we are trying to offer some very special street food that people have overlooked when it comes to Indian dining."
An example is the bun kabab: a mixture of beef, lentil and spices, fried with egg whites on sort of a hamburger bun.
Another example, from the Hunza Valley in northern Pakistan, is chap shuro (which can be spelled different ways). Downs said it's a whole-wheat flatbread stuffed with a seasoned, minced meat and served with a fresh yogurt dip.
They'll also offer Indian dishes such as butter chicken and Punjabi-style samosas and chicken samosas.
Downs said appetizers will sell for about $5, lunch specials for about $10, there will be many curries for about $12 to $14, and the most-expensive item, a weekend special lamb dish called nihari, for about $25.
Shafique and Downs anticipate opening in about the first week in May and will likely be open every day but Sunday.
"When I met Junaid, you could say our dreams collided because I had this coffee dream, and he was an excellent chef." Angela Downs
"When I met Junaid, you could say our dreams collided because I had this coffee dream, and he was an excellent chef."

Angela Downs