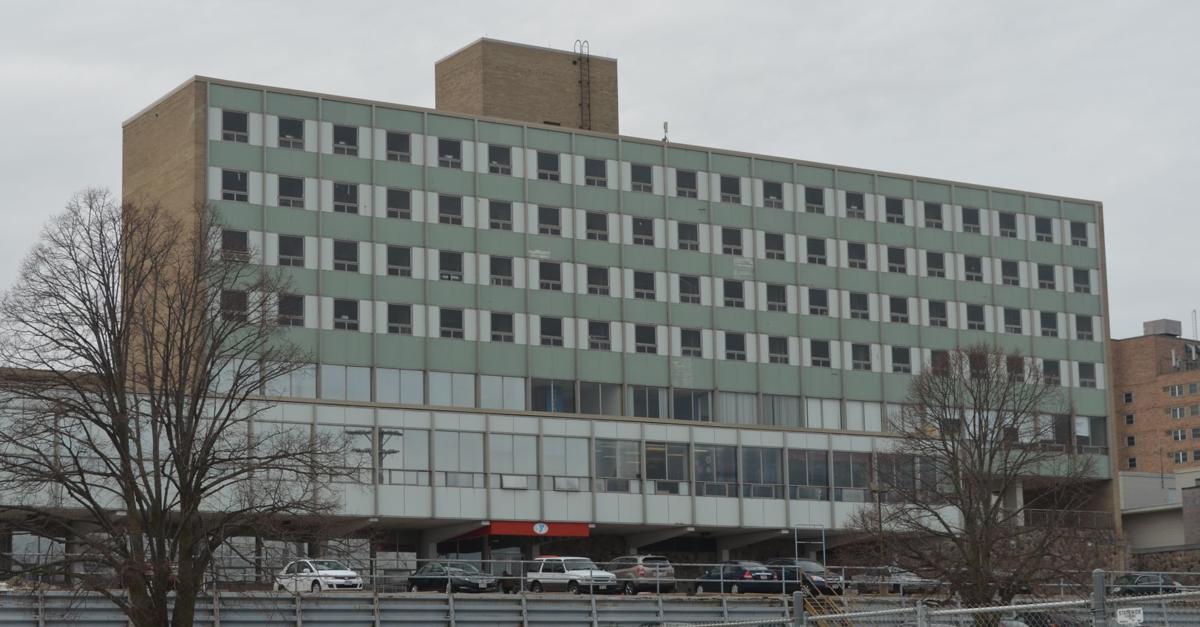 RACINE — The Racine Family YMCA has voted to sell the Downtown YMCA property to two developers working together who plan to demolish the entire structure and rebuild a modern Y as part of a larger, multiuse development.
Eleven of the 17 YMCA Board of Directors made the decision, during a special meeting at noon Wednesday, to sell the entire building and YMCA tower, Y Executive Director Jeff Collen and Board Chairman Steve Donovan said afterward. They said the Y would then very likely lease back the future YMCA, which would be developed by West Allis-based Cardinal Capital Management and Kenosha-based LandQuest, working together.
Those are the same two developers working to build two adjacent housing projects on the former Ajax industrial site in Uptown.
Both sides were hesitant to say much at this time about what the complete Downtown development on the YMCA site at 725 Lake Ave. would consist of, partly because it's early in the process of determining that.
"It's still very vague and unknown what the whole project will look like," Collen said. "But we have a developer that's willing to begin to put a project together that would include the YMCA back in its current location with a new facility. That's exciting; it's been (almost) 60 years." The current Downtown Y opened in 1960.
"We'll essentially become a tenant instead of an owner of property," said Donovan, senior vice president and Mount Pleasant market president for Community State Bank.
Despite some uncertainty about the development's final form, Erich Schwenker, president of Cardinal Capital, acknowledged it would include housing.
"I think there will be multiple uses," he said. "I'm not denying there will be some housing."
"Anything on the lakefront will involve a significant investment and multi-use, and there will be some housing there," Schwenker added.
"That's certainly been one of the things that the community needs," Collen commented. "It would be nice if it were housing, because that's a whole lot of (potential) members."
'Commitment to Downtown'
Schwenker emphasized the public value of ensuring that the YMCA will remain Downtown, with this future development.
"What is wonderful is that the Y is making a significant commitment to being Downtown," he said.
You have free articles remaining.
Cardinal and LandQuest approached the YMCA about nine months ago to start the conversation, Donovan said. He and Collen said there is a basic agreement on the selling price but said it's not final, so they declined to divulge it.
Schwenker did not put a timetable on any part of the project. He said the next phase will involve building consensus among Mayor Cory Mason and other city officials, the YMCA and the developers about just what shape the project should take.
"(The YMCA) has a public value that is over and beyond its economic value," Schwenker said. "Basically, we will try to create a future for that site that has significant economic value, because that's good for the city, but maintain the public value that the Y represents."
Outdated
Collen and Donovan said the present Downtown YMCA, which sits on 1.65 acres, is both expensive to run and not appropriate for today's health needs. And the tower, which was once used as transient housing, has not been used in many years.
Altogether, the attached structures are 180,000 square feet in size; the four-floor Y itself is about 120,000 square feet, "But we only use about 50,000 square feet," Collen said. "And some of it, not very often."
The new Y would be built at street level, be two stories tall and about 45,000 to 60,000 square feet in size, he said. For comparison, the Sealed Air YMCA in Mount Pleasant, excluding the child care area, is 60,000 square feet.
"It's not going to be a little, tiny, small facility," Collen remarked.
"This is the opportunity to now provide a YMCA Downtown that takes into account what Downtown needs now, what the community needs now versus what it needed 60 years ago," Collen said.
For example, he said, there are better ways to incorporate a track with other features.
Aquatics area
The present Downtown YMCA has a pool; the new one will likely have an aquatics area, perhaps similar to the one at the Sealed Air Family YMCA at 8501 Campus Drive in Mount Pleasant, Collen and Donovan said.
Collen noted that the next YMCA will be its fourth Downtown location: the first was on Sixth Street at College Avenue; the second was at 401 Wisconsin Ave.; the third is the existing one on Lake Avenue.
The only downside of the redevelopment, if it does indeed occur, is that it would put the Downtown Y out of commission during demolition and construction.
"There are no losers in this," Donovan said. "The city gets probably greater tax base because the YMCA is a nonprofit organization right now, and it has the whole property. Whatever is down there, if it's housing or something like that you're going to draw more density Downtown which supports businesses that are down there; (and) you get a new, shiny Y."
"Basically, we will try to create a future for that site that has significant economic value, because that's good for the city, but maintain the public value that the Y represents."

Erich Schwenker, president of Cardinal Capital Management