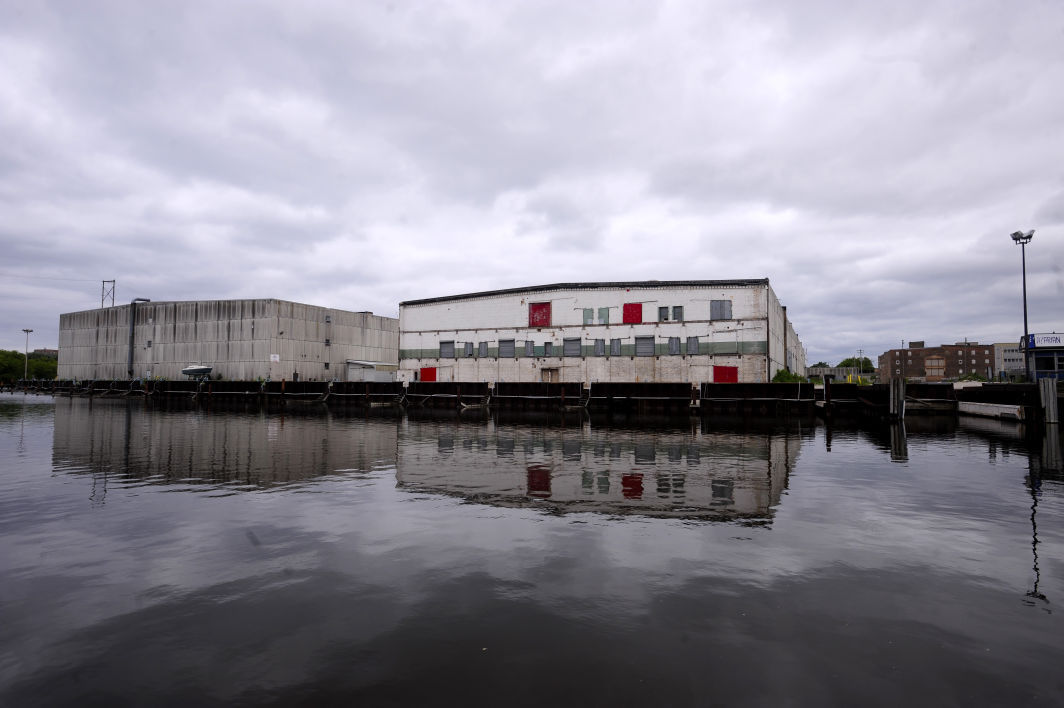 RACINE — Machinery Row's would-be developer has defaulted on his $4.5 million loan from the city, and the proposed Downtown redevelopment appears to be at the start-over point.
At 4:32 p.m. Friday, one day after the deadline for developer Rodney Blackwell to repay the city loan he used to buy the Machinery Row properties, Mayor John Dickert's office announced that Blackwell's company had not met the deadline and was in default of the development agreement with the city. Dickert could not be reached for comment on Friday. 
Because the land was the loan collateral, the city does, or will, own those 20 acres between the river and Water Street on Downtown's edge. The land includes the two massive former J.I. Case Co. buildings from the early 1900s, at 820 and 900 Water St. Blackwell had planned to redevelop them into housing and commercial uses and redevelop the waterfront as a public thoroughfare.
The brief statement said in part: "The city has been in discussion with other development teams interested in exploring development proposals for the property. The city is taking all necessary steps to enforce its rights under the development agreement."
Fanfare to fizzle
Blackwell's apparent departure from the project Thursday came 2½ years after he and city officials proposed, with great fanfare, redeveloping those three-story former Case buildings. At the time, he gave a $65 million project estimate, although his plans had changed many times since then.
In December 2014, the city made Blackwell's Davenport, Iowa-based Financial District Properties a $4.5 million loan, from the intergovernmental sewer agreement shared-revenue fund, so Blackwell could buy out three property owners and show that he controlled the property. That allowed him to meet an end-of-year deadline to become eligible for $9 million in state historic tax credits.
The loan was made with the land as collateral. Loan terms also required the city to buy buildings at 526 and 615 Marquette St. for a combined $1.8 million.
Originally, FDP was to have repaid the loan by Jan. 31, 2016, but the City Council granted an extension to April 30, and later to Thursday of this week. According to an agenda, the extension was granted "in order to allow the developer additional time to address development issues and secure a third-party loan for the development."
On Nov. 14, during a meeting with The Journal Times Editorial Board, Dickert was adamant that Blackwell would not receive an additional extension on the loan unless he brought in a solid plan and financing.
Blackwell did make his 1 percent quarterly payments on the loan, as required by his contract with the City.
State Rep. Cory Mason, D-Racine, a longtime and strong supporter of redeveloping Racine's urban riverfront, said Friday: "I am anxious to know more, if FDP is departing or not.
"There has been a lot of good bipartisan work done to allow historic buildings to be redeveloped," Mason continued. "It would be a real missed opportunity to not be able to redevelop a key component of Racine's riverfront."
"It would be a real missed opportunity to not be able to redevelop a key component of Racine's riverfront."

— State Rep. Cory Mason, D-Racine
The business news you need
With a weekly newsletter looking back at local history.