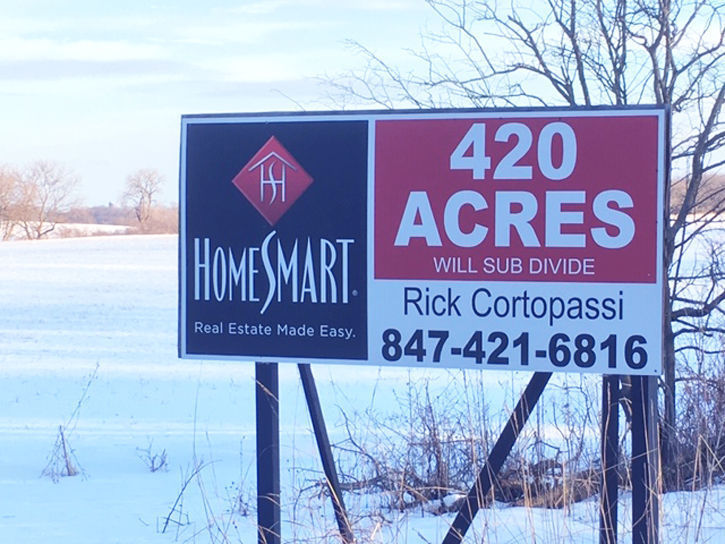 LAKE GENEVA — A company with apparent ties to Illinois' new billionaire governor has spent nearly $7 million to purchase more than 400 acres of prime Lake Geneva real estate that once was at the center of a fierce battle over development.
Walworth Equity Partners LLC has purchased about two-thirds of the property commonly known as the Mirbeau-Hummel development site, located on the city's south side next to Big Foot Beach State Park.
The buyer registered as a new Wisconsin corporation effective March 1, with its principal office location listed at the same downtown Chicago address as the Pritzker Group, owned by Illinois Gov. J.B. Pritzker.
Officials at the Pritzker Group have repeatedly declined to comment about the Lake Geneva deal, and a spokesman in the governor's office would only say that Pritzker has distanced himself from the company's business dealings since being elected in November.
A real estate broker on the land deal, Rick Cortopassi, called it "highly likely" that Pritzker's company is associated with the buyer group called Walworth Equity Partners.
Cortopassi said the Pritzker Group tried to buy the same Lake Geneva property about 10 years ago. Noting also that the newly elected governor has for years owned a nearby luxury lakefront home, Cortopassi added of Pritzker's involvement in the current deal: "I don't have any idea, but it's highly likely."
The broker said representatives of the buyer gave no hints about whether they intend to develop the site, which includes about 480 acres of farmland.
A warranty deed recorded at the Walworth County Courthouse indicates that Walworth Equity Partners purchased five separate parcels effective March 1 ranging in size from 64 acres to 155 acres each. The combined sale price amounts to slightly more than $6.9 million.
The sale involves undeveloped real estate — currently leased to a farmer — where previous owners engaged Lake Geneva city officials in a contentious battle over development plans.
In 2007, Chicago landowner Robert Hummel presented the city with development plans for 710 acres that called for building a hotel, a winery, retail stores, and hundreds of homes. Conceived as a partnership between Hummel Group Ltd. and another business called Mirbeau of Geneva Lake LLC, the project became known as Mirbeau-Hummel.
When Lake Geneva residents voiced fears that the expansive Mirbeau-Hummel development would bring congestion and disruption to their community, city officials ordered a citywide advisory referendum. Voters overwhelmingly said "no" to the project, so city aldermen rejected the development plan.
The Mirbeau-Hummel partners responded by suing the city for nearly $400 million in damages. The court battle ended in a multimillion-dollar settlement paid by the city's insurance company.
The property has sat dormant ever since, and the sale is stirring excitement among some that new development plans could be in the works.
'A positive'
Andy Dammeir, executive director of Lake Geneva Economic Development Corp., said he hopes Walworth Equity Partners unveils a proposal for building something on the 480 acres.
Dammeir's non-profit group, which uses city funds to promote business growth, owns more than 100 acres of vacant land adjacent to the Mirbeau-Hummel site.
"We're all for development of the area; we think it would be a positive," he said. "Every city needs growth."
Still on the market is about 220 acres that was part of the Mirbeau-Hummel project, but was not purchased by Walworth Equity Partners.
Matt Polyock, a farmer who leases the entire 710 acres to raise corn, soybean and alfalfa, said he has been in contact with the buyers, and he does not believe any development is likely to happen right away.
Polyock, whose family has been leasing the site for decades, would not say how long his current lease is for. But he said representatives of Walworth Equity Partners have assured him that the lease will be honored, and that he will not have to vacate his farm.
"Things will just continue to go as they were," he said. "Land gets bought and sold, and you just kind of roll with it."
Polyock would not discuss whether he knows the identity of the investors behind the buyer group.
New corporation formed
Records of the Wisconsin Department of Financial Institutions show that Walworth Equity Partners registered as a new corporation effective March 1, listing its principal offices as 111 S. Wacker Drive, Suite 4000, in Chicago. That is the same address as the Pritzker Group, and also the same address where Walworth County sends its property tax bill for the $8 million lakefront mansion that the Pritzker Group owns in the Town of Linn.
Forbes magazine has estimated that J.B. Pritzker, an heir to the Hyatt Hotels fortune, has a personal worth of $3.2 billion.
Running as a Democrat, Pritzker last year emerged from a crowded primary field and then unseated a Republican incumbent in November to become Illinois' new governor.
The vacant Mirbeau-Hummel real estate had been on the market for about two years.
After resolving the court fight with the city of Lake Geneva, Cortopassi said, the group of about 12 partners in Mirbeau-Hummel "just walked away" and let the property stand idle.
The deal with Walworth Equity Partners was worked out over a period of several months starting in 2018, he said. Attorneys and brokers represented the buyer, without identifying the group's principals.