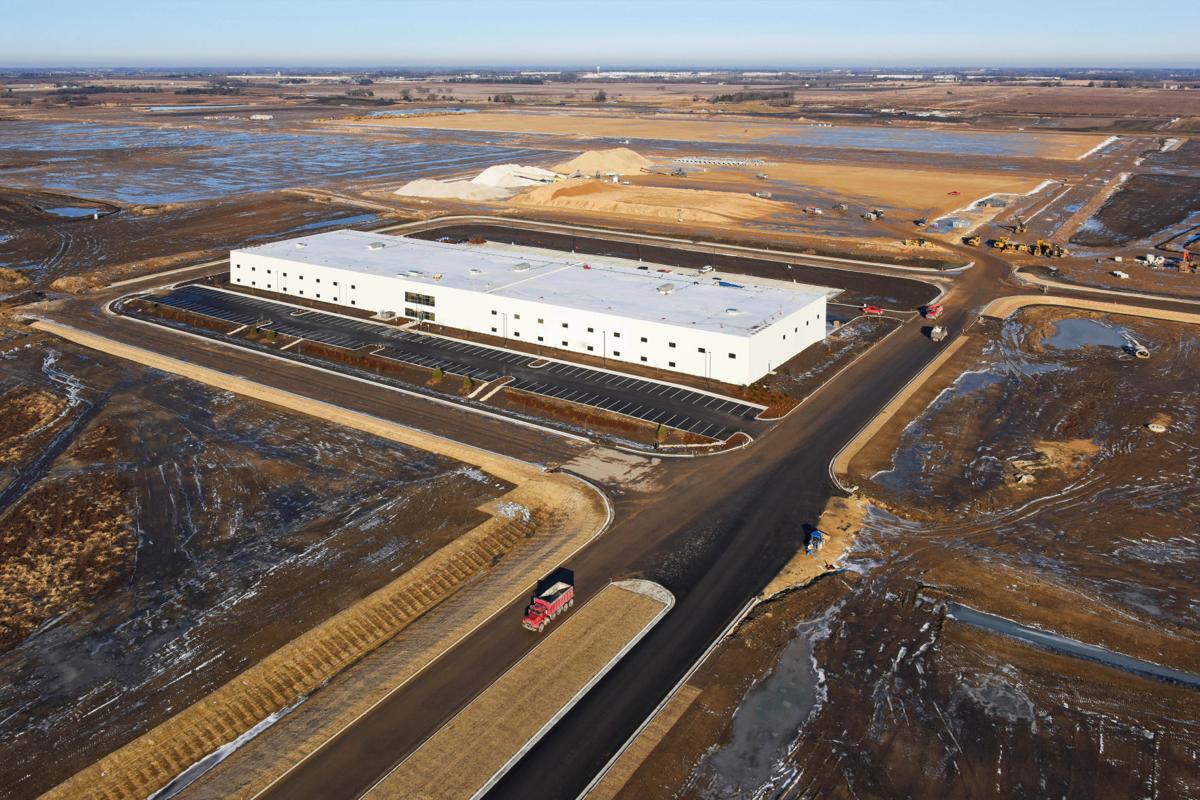 MOUNT PLEASANT — Foxconn Technology Group will start the next construction phases by this summer and begin production in the fourth quarter of next year, the company announced Monday.
In a news release, the Taiwanese company laid out the next steps in construction of its "Gen6" advanced manufacturing facility in the Wisconn Valley Science and Technology Park in southwest Mount Pleasant. From the start, Foxconn has promised to manufacture its liquid-crystal-display screens here, eventually creating as many as 13,000 jobs.
The initial Gen6 facility "will manufacture LCD screens for use in a variety of product applications including vertical solutions for industries such as education, medical and healthcare, entertainment and sports, security, and smart cities," Foxconn stated.
"I can't underscore enough how big bringing manufacturing back to the United States and to Racine County is," Racine County Executive Jonathan Delagrave said Monday. "I think in the future this will be looked at as kind of a watershed moment, and we hope that this is the start of more manufacturing coming back to the area, whether it's Racine or the Midwest."
Delagrave said the initial number of Foxconn jobs will be about 1,500. The company had initially said it expected to reach about 3,000 in the early going.
However, Delagrave said, "they never really shied away from the 13,000 jobs (at peak). In fact, they've kind of recommitted to that."
"Our commitment from day one has been to establish a winning formula for Foxconn and for Wisconsin," stated Louis Woo, special assistant to Foxconn founder and CEO Terry Gou. "We continue to expand our presence around the state, create jobs, and deepen our partnerships while innovating and adapting to meet changing market needs. We're investing in Wisconsin because we know manufacturing here is going to drive even greater success and growth for Foxconn and for the community."
Monday's news release followed about a week of in-person meetings between Woo and government officials.
"This is a great day for Mount Pleasant," Village President Dave DeGroot stated. "Soon, more employees will be coming to work right here in our great village, manufacturing LCD displays for industries including healthcare, education and smart cities. I look forward to continuing to see the project site transformed as it becomes a state-of-the-art manufacturing facility."
Next steps
On Monday, Foxconn announced its key steps in the coming months. By April 1, just two weeks from now, Foxconn will announce the awards for two bid packages: one for site utilities and a second for site roadways and associated stormwater drainage.
In addition, in May Foxconn will be issuing initial bid packages for construction of the Gen6 fabrication facility and ancillary buildings.
"We welcome the aggressive timetable," Delagrave said. "We like aggressive timelines, and we'd rather have that than not. So, we'll continue to partner with our other stakeholders and with Foxconn and work to meet those timelines."
"When we first hear these things, the first thing we do is we look at the construction managers. 'Is this doable?'" said Jenny Trick, executive director of Racine County Economic Development Corp. "And they give us every assurance that this is more than doable. They have all of the necessary steps in place to begin this work. So, I have every confidence; if they're comfortable, we can be comfortable."
Delagrave also voiced confidence that, with all the initiatives in place, Foxconn — as well as the county's existing businesses — will be able to find the workforce it needs. That will also involve recruitment, he acknowledged.
The initial needs will be on the construction side, Trick pointed out. Entities such as the City of Racine, Racine County and Gateway Technical College have obtained grants to support construction-related jobs.
"I think that's going to be the initial demand, on construction opportunities," Trick said. "And those are vast, and they exist, and we would welcome anybody that has any level of interest to plug in and to look for those opportunities."
Suppliers
From the start, Foxconn has been expected to attract certain suppliers that would locate nearby. Asked if there was any news on that front, Delagrave said that when the local delegation of officials visited Foxconn's operation in Osaka, Japan, "We saw the supplier companies integrated within the site. And I think you'll see some of that with Foxconn (here)."
From that Foxconn tour, Trick added: "You'll walk by a number of different manufacturing firms that are independently owned, but they're seamlessly integrated into the Foxconn manufacturing process … we anticipate in this initial phase that those suppliers likely are to be seamlessly integrated into the footprint of Foxconn.
"I'm still hopeful that there will be Racine County companies that could be suppliers to (Foxconn) … so, I think it's going to be a mixture of things: the integration, new coming in, as well as supporting our existing companies for this opportunity if they're so inclined to support Foxconn with its supplier needs."
When vertical construction gets underway, Delagrave said, he would expect to see suppliers and other economic development projects enter the picture — especially as the I-94 widening nears completion.
"So, I think you'll see a lot of economic development happen," he said. "But in what form is to be determined."
'Wisconsin First'
" 'Wisconsin First' has been our commitment from the start, and it has been evidenced in our construction hiring to date," Woo stated, and he said it will continue to be a top priority for Foxconn as it lays the groundwork for "a significant manufacturing presence."
To date, 95 percent of all contract value awarded for the construction of the Wisconn Valley campus has gone to Wisconsin companies, and 13 percent of contract value was to minority, veteran, and women-owned businesses.
Established in 1974, Foxconn is the global leader in manufacturing services for the computer, communication, and consumer electronics industry. Foxconn generated total annual revenue of $158 billion in 2017 and was ranked No. 24 on the 2018 Fortune magazine Global 500. The company has facilities in Asia, Europe, and the Americas.
The company has research centers and testing laboratories internationally and has received more than 83,500 patents worldwide.
In addition to maximizing value creation for customers, Foxconn says it is also dedicated to enhancing the concept of environmental sustainability in the manufacturing process and serving as a best-practices model for global enterprises.
"I think in the future this will be looked at as kind of a watershed moment, and we hope that this is the start of more manufacturing coming back to the area, whether it's Racine or the Midwest."

Jonathan Delagrave, Racine County executive