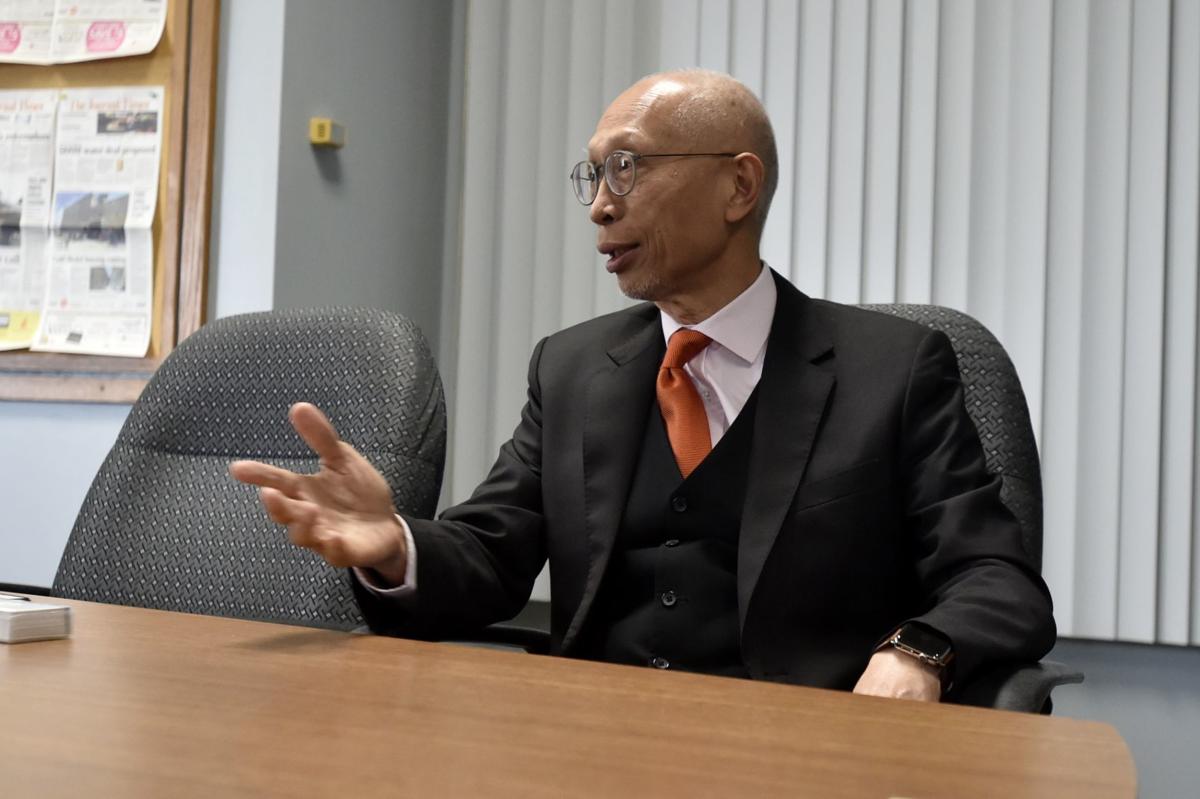 RACINE COUNTY — Foxconn Technology Group has shifted its initial manufacturing plans heavily toward robotics, but the target of 13,000 new jobs here remains valid at the future Wisconn Valley Science and Technology Park, a top company executive says.
In a visit to The Journal Times on Tuesday as part of a media tour, Louis Woo talked about expected employment growth at Wisconn Valley in southwest Mount Pleasant, the types of jobs that will be created, the use of self-driving vehicles on the campus and more.
The Taiwanese company's original employment projections are still fully in effect and on schedule, said Woo, special assistant to Foxconn founder, Chairman and CEO Terry Gou. Woo expects 2,000 people to be working on the campus by the end of next year and have its liquid-crystal display panel operation built by late 2020. But he said some manufacturing and shipping of devices from there can begin before that.
The company is still expecting to reach the full promise of 13,000 jobs sometime in 2023, Woo said.
The mixture of those jobs will be only about 10 percent assembly workers — the people who will tell the robots what to do — and 90 percent "knowledge workers" who will devise new ways to use the 8K, 5G and artificial-intelligence technologies that Foxconn will build. The term 8K refers to ultra-high-resolution displays, 5G refers to the next generation of cellphone technology that will do super-fast passage of data such as images, and artificial intelligence will help improve manufacturing processes and technologies, Woo explained.
Foxconn will be building this country's first thin-film transistor fabrication, or "TFT fab," operation. Woo said: "We'd like to work with academics, or R&D entities, around the country to see what they want to do with it, especially on the research and development of a new generation of display or other advanced semiconductor technologies."
Like a violin maker
Woo said Foxconn is "creating an ecosystem based on our technologies for products that will be coming out from the Wisconn Valley Science and Technology Park. So we call that ecosystem AI 8K + 5G."
He used the analogy of Foxconn being a maker of the world's finest violins.
"But we cannot make the music," Woo said. "So we will need developers; we need musicians; we need violin players that can make beautiful music on our first-rated violin."
Similarly, he said, Foxconn will be able to produce 8K displays and 8K image-capturing equipment, but will want people who understand advanced manufacturing and bring expertise in fields such as medical care.
"So, that's where we need incubators," Woo said. "We need people to come in and try the new tools … that we can provide."
The ecosystem Foxconn will build, Woo said, will be able to be used across the world of manufacturing to make processes more efficient.
"We are not really interested in (building) television," Woo said. "We are interested in vertical solutions." Those solutions could be in numerous areas, including medical, manufacturing, office automation or learning.
Adjusted business model
Woo said Foxconn has dramatically changed its initial presumptions about how it would manufacture in the United States. Originally the company figured it would simply duplicate its China model here — until it realized that the much higher labor costs here would guarantee failure.
"If, six months ago, you asked me: What would be the mix of labor? I would pull out the experience that we have in China and say, 'Well, 75 percent assembly line workers, 25 percent engineers and managers,' " Woo said.
"So, ask me the question today," he said, then replied, "now it looks like about 10 percent assembly line workers, 90 percent knowledge workers." Advanced manufacturing here will be done largely by robots and a lot of automation, he said.
But that will only be part of what Foxconn will try to do here, Woo added: "Mainly, we will certainly need to take advantage of the talent pool in the U.S. Do a lot more research and development (that it does in China), looking into future technologies."
Woo clarified that when he mentioned 10 percent assembly line workers, those people will operate the robots and tell them what to do. He said he has to look more closely into what those jobs will pay but said: "Normally we will pay a lot more than minimum wage even for the … relatively low-skill-set workers."
Even with that shift toward automation, Woo said the target number of 13,000 jobs is still "absolutely" attainable, "if not more."
Generation Six LCDs
In its first phase, Foxconn will build a manufacturing operation for Generation Six liquid-crystal display panels, rather than the Generation 10.5 LCD panels as initially announced. Generation Six panels are much smaller than those of Generation 10.5.
Woo explained that by the time a Generation 10.5 operation could be built, it would have so much competition from others in China that the market would be glutted. The market indicated a different type of operation here.
Generation Six LCDs have capabilities that Generation 10.5 do not and have different uses, Woo explained. They can be curved and used for automobile displays, for example. They can display data in an autonomous vehicle or turn clear like a windshield when not in that mode.
Building a Generation Six manufacturing operation does nothing to change Foxconn's commitment to a $10 billion campus, Woo said.
Woo said Wisconn Valley will likely depend on autonomous vehicles to move both people and materials. He expects Foxconn will likely not even allow normal automobiles on the campus, except to be parked. "Or there will certainly be a dedicated lane for the auto-driving vehicles," he said.