MOUNT PLEASANT — A.W. Oakes & Son of Racine is one of five companies awarded contracts that is set to immediately begin building Foxconn Technology Group's advanced-manufacturing campus here.
Standing on the 3 million-square-foot building pad for the manufacturing operations Thursday, officials from Gilbane/Exyte, the construction manager for the future Wisconn Valley Science and Technology Park, announced the five subcontractors awarded a total of close to $34 million in contracts to begin construction.
The contracts "will jump-start the construction of vital utilities and roadways on the site," Foxconn officials said in a news release.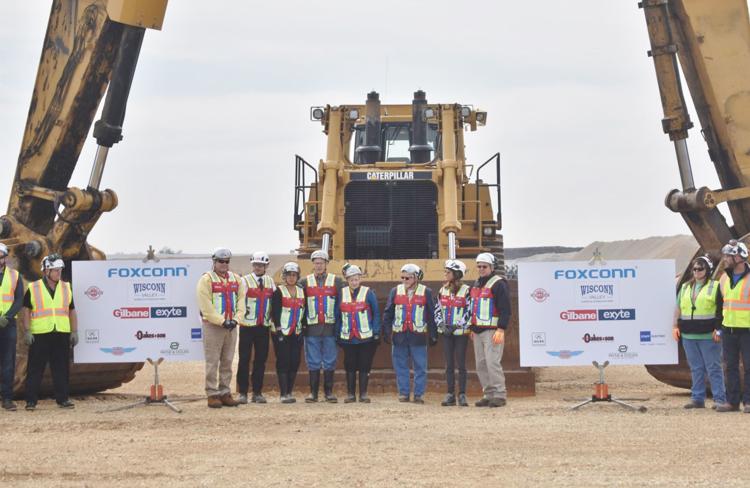 "What we need to do with the site is install the utilities — that's sanitary and water, and the master plan roadway system that will provide the infrastructure, or network, to support this building site and ultimate operation of the facilities," explained Adam Jelen, Gilbane Building Co. senior vice president for Wisconsin.
In addition, Jelen said, they need temporary utilities to support the construction operations.
The other subcontractors awarded contracts to commence work on site utilities, roadways and associated storm drainage are:
Giles Engineering Associates of Waukesha;
Staff Electric Company of Menomonee Falls;
Hoffman Construction Co. of Black River Falls; and
Payne & Dolan of Waukesha.
"Foxconn is proud to announce these successful Wisconsin-based subcontractors who will help make the Gen6 facility a reality," stated Louis Woo, special assistant to Foxconn founder and Chairman Terry Gou. "This investment will continue to provide new economic development to the local community and throughout the state. Our Wisconsin First approach guides how we conduct business in the Badger State, and we look forward to having a positive impact on a range of industries and sectors in the community. This is only the beginning."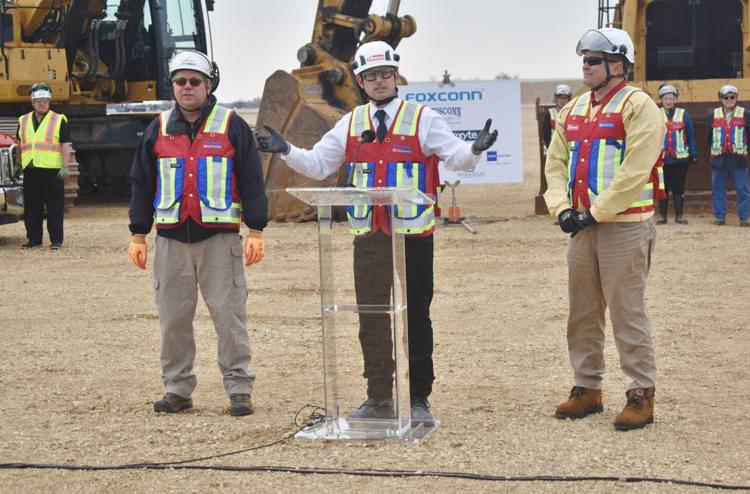 Racine County Executive Jonathan Delagrave, Village of Mount Pleasant President David DeGroot and Jenny Trick, executive director of the Racine County Economic Development Corp. issued this statement: "Today's announcement is another significant step forward toward (liquid-crystal) displays being manufactured right here in Racine County. To date, Foxconn and Gilbane/Exyte have more than delivered on their commitment to putting 'Wisconsin First' in hiring contractors for work related to Wisconn Valley Science and Technology Park. We look forward to the opportunities the additional bid packages and information sessions will provide for even more Racine County and Wisconsin contractors to play a role in this transformative project."
Meetings for contractors
In addition to Thursday's announcement, Foxconn announced that it plans to take several key steps in the coming months. In May, it plans to issue initial bid packages for the construction of the Gen6 fabrication facility and ancillary buildings. Trick said more than 1 million square feet of manufacturing buildings will be constructed in Area One.
Additional information regarding the project, process and bid packages as well as information about how contractors can participate will be shared at a series of public information sessions, scheduled for:
Wednesday at the SC Johnson iMET Center, 2320 Renaissance Blvd. in Sturtevant;
April 10 at the MATC TRUAX Campus in Madison;
April 17 at the Chippewa Valley Technical College/Gateway Campus in Eau Claire; and
April 18 at the Northwest Wisconsin Technical College in Green Bay.
Jelen said what they will focus on at those meetings for contractors will be the foundations for the thin-film-transistor manufacturing operations and the power substation that are planned to be built in Area One of the Wisconn Valley campus.
"Foxconn is delivering on its 'Wisconsin First' commitment and it will continue to be our priority as we expand our presence around the state and further establish Wisconsin as a leader in the advanced manufacturing sector creating employment opportunities locally, while continuing to invest in the future," Woo stated.