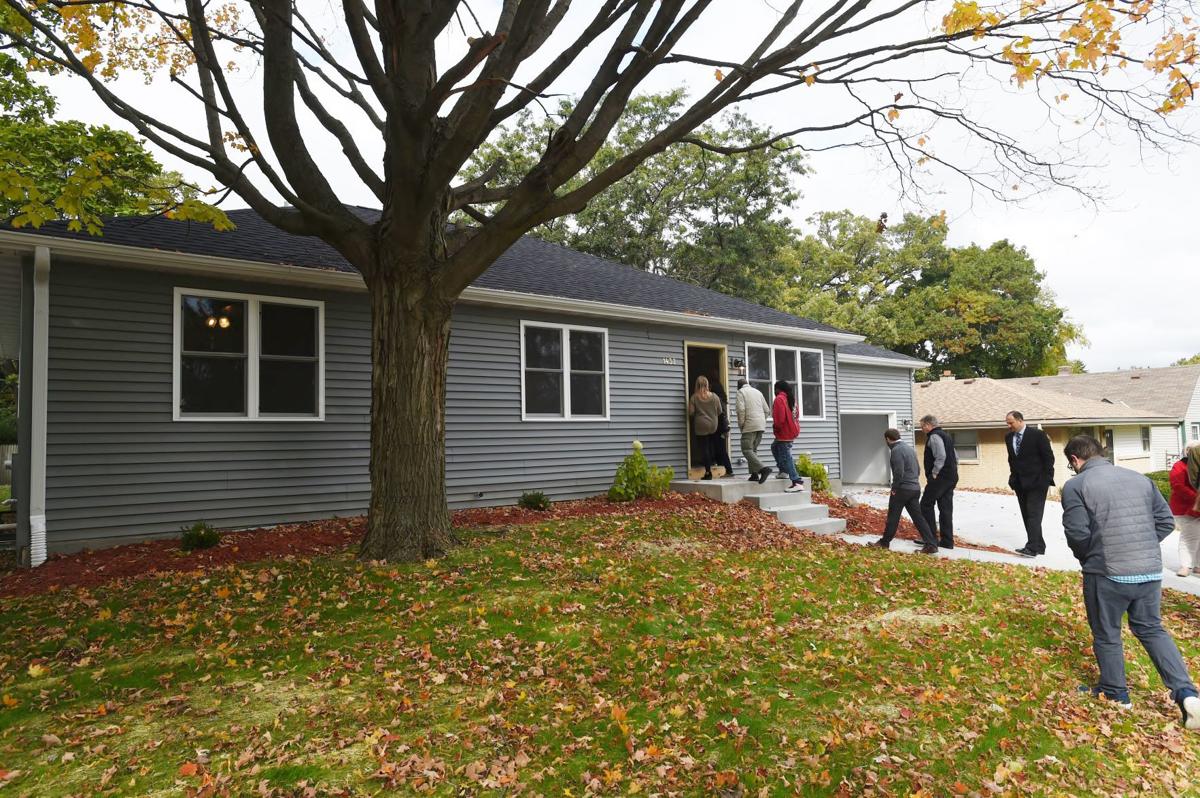 RACINE — Where a structural eyesore stood one year ago, 1432 Illinois St. has a brand new house awaiting its inaugural family. It's the first house built in the neighborhood in about 50 years.
Several organizations share the credit for that fact, and about 35 people gathered in front of the single-family house Wednesday morning to mark the occasion of it being finished and going up for sale that day.
Just less than a year ago, an excavator began tearing into and demolishing the dilapidated dwelling on Illinois Street. By Wednesday, standing on the same lot, was a new three-bedroom, 1½-bathroom house with about 1,300 square feet and an attached garage.
That residential death and rebirth was a collaboration that included:
Racine County, which donated the property it had taken in a tax foreclosure to the Great Lakes Community Conservation Corps;
The Conservation Corps, which built it as a training project for young adults to learn hands-on skills in the building trades;
AmeriCorps, since the Conservation Corps is an Americorps program, and trainees receive a stipend through that avenue;
Land Quest Home Improvement, which provided the building expertise to the Conservation Corps;
Forward Community Investments, which provided the loan pool and a $90,000 loan. Associated, Johnson and Town banks were specifically singled out for investing in that fund;
The City of Racine, which provided $127,800 in federal community development block grant money; and
Racine Community Foundation, which contributed funding for the Conservation Corps training program.
"To me, this building, this project is really a testament to community partnerships," Mayor Cory Mason said.
"When you think about what we're trying to do here," Mason said, "which is to increase opportunities for home ownership, which is about as big a cornerstone of the American dream as you can get, that's really all of us coming together to do that right here on the 1400 block of Illinois Street. And we want to do that again and again and again."
Many benefits cited
The new house was the fourth similar project the Conservation Corps has done with some of the same partners, Corps Director Chris Litzau said Wednesday.
"This property has impacted the lives of 36 of our training participants over the course of this past year" in the Preapprenticeship Construction Training program, he said. About a dozen of them have received scholarships as a result and are now enrolled in college.
Others, Litzau said, have been hired away by contractors, "which is the way it's supposed to work."
"When you look at who benefits, there's really numerous individuals when you finish a project that benefit," said Ryan Douglas, president of Kenosha-based Land Quest. Besides the youths that gain skills, "Secondly, you have the neighborhood," he said. "We took what I feel to be the worst property on this block and we turned it around and we added value to the rest of the neighborhood. So hopefully, all the neighbors benefited and they feel that their properties have increased in value.
"Now, we also have a property that the county and the city can collect taxes on," Douglas said. "And hopefully, we've increased the assessed value drastically; we feel we have."
The house's market value is estimated at $179,900, but the initial asking price is $159,900. However, the buyer or buying family must be income-qualified at no more than 80% of the median county income. The price they pay will vary depending on the size of the family that buys it, and the City of Racine must approve the purchase.
In Photos: Works by Racine-born artist Karen Gunderson
A new book about Karen Gunderson not only gives readers a more in-depth look at the celebrated artist's work, but great insight into her life — from its beginnings here in Racine to its many successes in New York City and around the world.
Here is a sampling of Gunderson's work.