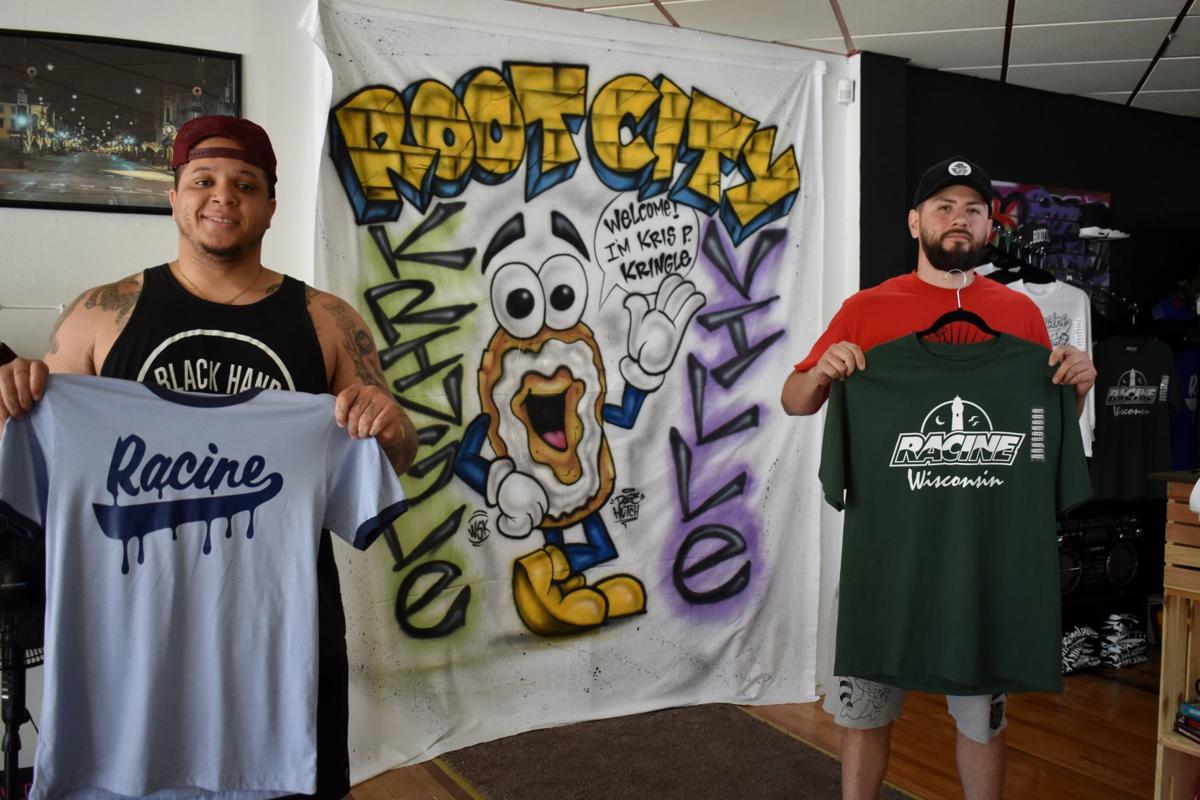 RACINE — If you're proud of Racine and want to show it, a new shop at Main and Fourth streets has the apparel to let you proclaim it.
Root City, which occupies the front half of Studio 21 at 345 Main St., is a part-time retail endeavor by Dee Hutch and Willy Reynoso, both of Racine. Although they sell some accessories such as mugs, Root City mostly carries Racine-theme T-shirts, tank tops, hats, shorts, hoodies and sneakers.
"The premise of us having the business," Hutch said, "is to create shirts that create hometown pride in our city. We saw a void in that; nobody was really making things."
"There's been Racine shirts in the past," he continued, "but I didn't see anybody making a lot of things that really encapsulate what it's like to be here — to have different colors and different themes, different aspects of the city."
"We make everything ourselves." Hutch, 30, is a tattoo artist at Black Hand Tattoo, 406 Main St. He and Reynoso, 35, a stay-at-home dad, collaborated on most of their designs, and Reynoso screen-prints the clothing in his basement.
Hutch said his art career started when he was 14 or 15 and he began doing airbrushing, as his father did. "It was always T-shirts," he said, and air-brushing them was his first high school job. That skill led him into painting, doing mixed media, murals and tattoos.
Reynoso said he got into T-shirt making because he collected sneakers and liked shirts that matched them. Eventually, he got enough money for the screen-printing equipment and started making shirts for himself as a hobby.
"Little by little, people were asking me who made them … and I started making shirts for other people," Reynoso said. "So that's how I came up with my brand, just from that."
New character on the way
Root City currently carries about 10 different designs. But soon, another will be coming along: a cartoon character that Hutch created called Kris P. Kringle. Besides putting him on clothing, Hutch is working on a coloring and games book based on him.
At Root City, T-shirts and tank tops sell for $25, hoodies for $40 and hats for $20. Currently, the shop is open noon to 9 p.m. Friday and Saturday. For more information call Hutch at 262-994-8168 or Reynoso at 262-880-3133.
The business news you need
With a weekly newsletter looking back at local history.