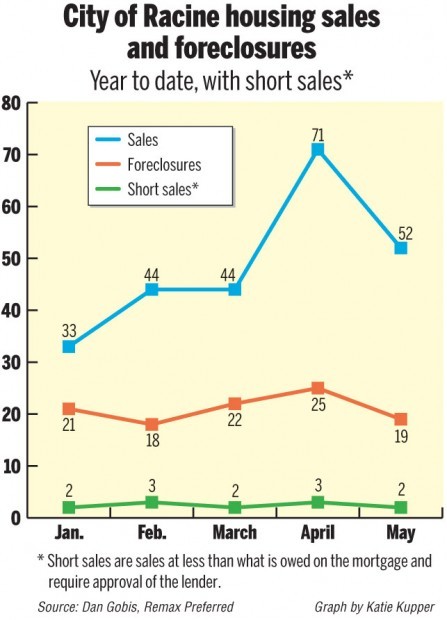 RACINE COUNTY - After housing sales here climbed each month since January, they fell somewhat in May, according to the latest data.
The Milwaukee Multiple Listing Service, or MLS, released May residential sales numbers Thursday. They showed that housing sales in Racine County dropped from 188 in April to 163 in May, a 13.3 percent fall-off.
Last month was also the only one so far this year in which sales here did not exceed their comparable month in 2009; May sales were down by 4.7 percent from May 2009.
For the year to date, housing sales are running 21.2 percent ahead of a very bad first several months in 2009.
Racine Board of Realtors President Linda Johnson of First Weber Group said she was not surprised by the May decline. With the first-time-buyer tax credit deadline approaching, April brought a flurry of closings.
And she expects another decline in June sales, from May.
Johnson's colleague, First Weber Group President John Crimmings said about the tax credit, "I think it just sucked all the buyers in May and forced them to buy in April."
But he differed with Johnson on what this month will bring. More people are attending open houses and making offers, Crimmings said. He predicted a rebound, but didn't know how strong it may be.
Dan Gobis, a real estate agent with Remax Preferred, said the May drop-off did surprise him.
"I did have an expectation that we would stay the same or at least be close" in May to the month before, he said. "The summer doldrums usually start about now, but they might have started earlier."
City of Racine housing sales fell in May fell twice as sharply than the county average, according to Gobis' count: from 71 in April to 52 in May, a 26.8 percent drop.
Elsewhere in the area, May housing sales dipped slightly in Kenosha and Milwaukee counties but continued to climb in Walworth and Waukesha counties.
MLS data capture most, but not all, housing sales; they do not include sales by owner. The residential category includes one-, two- and multiple-family housing and condominiums.
Johnson said May brought a 5 percent increase in new foreclosures. Many, she said, are cases of owners who owe more than their home is worth and walk away from their mortgage.
Each month Gobis counts foreclosures and short sales - sales for less than what is owed on the mortgage - in the city of Racine.
The percentage of foreclosures and short sales combined has bounced around this year and stood at 40.3 percent in May.
Both of those types of sales significantly affect average selling prices and tend to pull down all selling prices. That creates a buyers market; it's bad for sellers.
"We're getting them sold, and that's what's necessary to help the market recover by getting rid of the foreclosures," Gobis commented.
"They're obviously a big part of our market."
Despite the downward pressure that foreclosures and short sales apply to prices, Crimmings said selling prices are starting to creep back toward assessed values in Racine County east of Interstate 94, the area he studies. The average had plunged to about 70 percent but by the end of May had inched upward to 73-74 percent.
Johnson commented, "It's a weird market right now. But it's cyclical; it'll all come back."