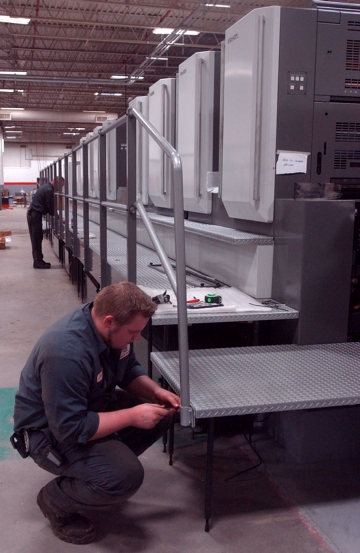 STURTEVANT — After almost 65 years in business, Angel Lithographing Co. is being absorbed into another printing company with greater capabilities.
Angel's owners informed employees Tuesday and Wednesday that the family-owned firm is being folded into Burton & Mayer of Menomonee Falls. Manufacturing at Angel Lithographing, 2700 90th St., will soon shift to Menomonee Falls, and Angel will become a division of Burton & Mayer. 
The present co-owners, Bill and Dick Angel, will become salesmen as employees of that company.
Some, though not all, current Angel Lithographing employees will be invited to join Burton & Mayer, that company's co-owner and President Tim Burton said Wednesday. With added accounts from Angel Lithographing, his company will need more production workers.
"We definitely want to interview everyone and get as many on board as we can," Burton said.
Angel Lithographing was looking for a merger partner, Dick Angel said. Instead, in joining Burton & Mayer, "They basically take over the sales of your business to maintain your business." And no money changed hands to buy Angel stock, for example. 
You have free articles remaining.
Burton called it "an orderly shutdown" of Angel Lithographing.
Angel Lithographing, founded in 1947, is a general commercial printer that produces marketing materials, direct mail, booklets, catalogs and the like. Customers include InSinkErator, Ruud Lighting and Great Northern Corp., Dick Angel said. 
The firm has about $3 million in sales and 15 employees, he said, compared with Burton & Mayer's $13 million and 75 employees. 
Burton & Mayer also has digital capabilities that Angel does not — and could not afford to buy.
"They were kind of like us on steroids with more services," Dick Angel said.
He said when his company failed to find a merger partner, they looked for a company to work for that had a similar culture. Both Angel Lithographing and Burton & Mayer are union companies with second- or third-generation owners. And only Burton & Mayer committed to staying involved in the Racine-area community and offering jobs to Angel Lithographing employees, Dick Angel said.
Customers will see no change, he said, as the Angel division will retain the same phone number and email address as well as a sales office somewhere in the Racine area.