2017 Best of Racine County results: Style & Beauty categories
Best Massage Therapist
Amy Pardo, Honest Touch, 6226 Bankers Road, Mount Pleasant
Amy Pardo didn't grow up wanting to be a massage therapist, but she's always loved helping people.
A while back she began giving her boyfriend, now her husband, massages after he played football, and he told her she should pursue it professionally.
Pardo, who has been a massage therapist for eight years now, was named Best Massage Therapist by voters in this year's Best of Racine County contest.
She currently shares a suite at 6226 Bankers Road, near the southernmost end of Old Green Bay Road, with Angel Face Skincare.
Pardo credits her success with her ability to really listen and learn her client's needs.
"Listening to people's needs is really important," she said. "Someone told me that I am a good listener. With everything I do, I try to keep my clients in mind. I love helping people. If I could do it for free, I would."
***
Second place: Kelli Scharping, Namaste Massage and Reflexology, 6012 Washington Ave., Mount Pleasant
Third place: Lisa Madsen, Urban Trends Salon Spa, 10351 Washington Ave., Sturtevant
***
Best Salon
Tangles Salon, 304 Main St., Racine
Tangles Salon, 304 Main St., provides a big city feeling for people looking to change their looks in Racine. Janna Coca has owned the business for the last seven years and describes the establishment as an "upscale salon."
"It definitely has a Chicago feel to it, our clients say that a lot," Coca said, adding the business is best known for hair color. "We have some of the best colorists in Racine. Our stylists are very educated … and they're very experienced as well in the new techniques. We're very up to date with that."
Although it may seem like a place for the wives and girlfriends, Tangles offers services for the guys as well.
"Surprisingly we have a pretty large male clientele," Coca said, saying about a third of their customers are men. "We have more women than men but we also have some of the best barbers. Some of our girls are very experienced in barbering."
For area men and women looking for a place that has hair restoration services, Coca said Tangles is the only salon in the area that does that.
Coca said the salon is looking to add more services like microblading, eyelash extensions and possibly nails.
***
Second place: Urban Trends SalonSpa, 10351 Washington Ave., Sturtevant
Third place: The Vine Hair Salon, 2932 Northwestern Ave., Racine 
***
Best Spa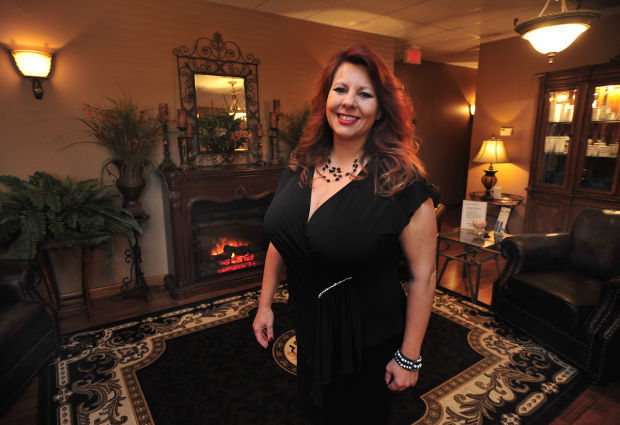 New Image Total Body Spa, 4060 N. Main St., Caledonia
Shelly Janke, owner of New Image Total Body Spa, has been an electrolysis and laser specialist for more than 25 years.
Today the business includes a variety of services — from therapeutic and relaxation massages to aqua detoxes and Botox. But it's the medical and corrective type treatments that Janke believes sets the business apart from other spas in the area.
A favorite of Best of Racine County voters, New Image Total Body Spa has once again been named Best Spa by Journal Times readers.
Asked what keeps New Image, which recently moved to 4060 N. Main St., so popular with customers, Janke said it's the diversity of services.
"We are the only medical spa. We are a medical facility, so we can do the medical-grade type treatments, but we still have a relaxing, spa environment," she said.
***
Second place: Urban Trends Salon Spa, 10351 Washington Ave., Sturtevant
Third place: Tangles Salon Studio, 304 Main St., Racine
***
Best Stylist/Barber
Katie Falaschi, Junction Room Barbershop and Hair Boutique, 10430 Northwestern Ave., Caledonia
Katie Falaschi has been voted the Best Stylist/Barber in Racine County. For 15 years she has been styling hair in Racine County and there's one group in particular who have really enjoyed her services.
"It's the moms who have kids and are working, and they come in and they're like 'I've been looking forward to seeing you all week,'" Falaschi said. "Being a mother myself, I know how important it is to take time for ourselves and you can tell when they leave that they feel refreshed and they feel really good."
Formerly at Tangles Salon, Falaschi now works at the Junction Room Barbershop and Hair Boutique in the Franksville area of Caledonia, where she invests time into every head of hair.
"Most of my clients don't feel like they are just clients to me; they can tell that I care about them," Falaschi said. "It's not a conveyor belt for me — here comes one, here comes the next — I remember things about them and I create a bond with my clientele."
Falaschi gets a lot of enjoyment out of seeing how even the smallest changes can completely boost a client's self-esteem.
"I love being able to transform someone's look, even if it's just with a small detail like adding a bang or tweaking someone's color," Falaschi said, adding that she really enjoys coloring hair. "I just made someone's hair a rainbow … she was just glowing when she left, as was I when I was blow-drying her hair." 
***
Second place: Jordan Rowland, Tangles, 304 Main St., Racine
Third place: Sophie Aslanidis, Salon Gloss, 6800 Washington Ave., Suite E, Mount Pleasant
***
Best Tattoo Parlor
Private Stock Tattoo, 312 Sixth St., Racine 
Open for five years, Private Stock Tattoo has become a local favorite for its original designs and dedication to its customers. This is its fifth consecutive win for Best Tattoo Parlor.
"We take a lot of pride in what we're doing," said owner Sean Fletcher, 37. "We try to make sure every customer who comes in is set up with the right artist so the artist is having fun, too. It's a win-win and we have everyone leaving happy."
Fletcher and his fiancée, Kaitlin Lesperance, opened a second location in Portland, Ore., in July and spend time at both stores, coming back to Racine about once a month.
Fletcher said they are "humbled" to continue to be named a favorite. "We try to continue to push ourselves and do the best art we can," he said.
***
Second place: Skin Candy, 5200 Washington Ave., No. 104, Racine
Third place: Black Hand Tattoo, 406 Main St., Racine
***