2017 Best of Racine County results: Sports & Fitness categories
Best Bowling Center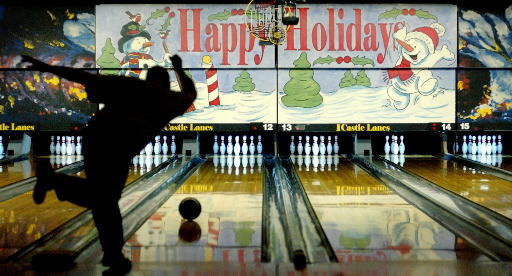 Castle Lanes, 5615 Castle Court, Racine 
For the eighth consecutive year, readers selected Castle Lanes as the Best Bowling Center in Racine County.
The long-time staple for sports enthusiasts and entertainment seekers alike has received national recognition, including a mention in Travel and Leisure magazine, which named the venue to its list of America's coolest bowling alleys.
Owner Phil Ontko said he and his staff never rest on their laurels and constantly look for ways to evolve Castle Lanes as consumers' tastes follow suit.
"Every year we review our core business question," Ontko said. "How can we enhance the league bowling experience?"
From his vantage point, Ontko said he believes Castle Lanes stands out from the pack by offering unique features, particularly to its league players. The bowling alley, for instance, offers a Champion of Champions tournament for five-person team leagues.
Regardless of a person's skill level, Ontko said he and his staff aspire to offer a top-notch experience for all players.
"(We) offer a unique Wisconsin bowling environment to all of our customers," Ontko said. "We pride ourselves on our unique atmosphere, cleanliness and excellent staff."
***
Second place: The Lanes, 6501 Washington Ave., Mount Pleasant
Third place: Old Settlers Bowling Center, 1500 15th Ave., Union Grove
***
Best Golf Course
Ives Grove Golf Course, 14101 Washington Ave., Yorkville
After a seven-year hiatus, Ives Grove has re-emerged as readers' top pick for the best golf course in The Journal Times Best of Racine County contest. The course, in Yorkville just west of I-94, placed second in 2012, 2013, 2014 and 2015.
The 27-hole course features a links-style layout, where players encounter 110 bunkers. The venue is situated along natural terrain and rolling greens.
Organizers within Ives Grove also tout the facility's amenities, which are ideal for player practice. Additionally, the course features a pro shop staffed with experts and a full-service bar and grill.
Other features within the course include golf simulators, which have been especially popular in the frigid months since golf, naturally, is not possible in the depths of Wisconsin's winters.
H & H Fairway Enterprises Inc. operates and manages Ives Grove, in addition to the Browns Lake course in Burlington for Racine County.
In a statement, Pete Eitel, president of H & H and the club manager of Ives Grove, said the course has evolved over time to meet player demand. A third 9-hole course was added to the mix, for example, which brought it up to the 27-hole links course today.
"H & H Fairways continues to grow the game among golfers of all ages through its clinics and tournaments," Eitel said in the statement.
***
Second place: Johnson Park Golf Course, 6200 Northwestern Ave., Racine
Third place: Meadowbrook Country Club, 2149 N. Green Bay Road, Mount Pleasant
***
Best Health Club
Razor Sharp Fitness, 7300 Washington Ave., Mount Pleasant; 3900 Erie St., Racine
For four of the last five years, Razor Sharp Fitness has been selected Best Health Club in Racine County, and it won again this year.
"It's fantastic," said General Manager Jacob Thomas. "We strive to be a part of the community as much as possible so to be recognized is a great honor."
Razor operates two locations in Racine County: 7300 Washington Ave., which opened in 2014, and 3900 Erie St., which opened in 2011.
Unlike a regular fitness club, Razor Sharp focuses on all aspects of a healthy lifestyle, including offering guidance on proper nutrition and wellness and providing staff who want to be the experts for members and corporate clients to help their employees.
"It's not just about coming in and working out. We also have massage therapy and all aspects of wellness," Thomas said. "Our goal is results first ... to help people get the results they want."
His staff is constantly training and learning about the trends and the best practices in the industry.
"The fitness world is always changing, so we always have to be up on it all the time. We are in front of it," Thomas said. "We want to take care of our members."
Right now, the trend in fitness is sense of community.
"It's more than, 'I'm going to go work out.' It's I'm going to come in and be with my friends in a group exercise class or be with my friends with a personal trainer. It's about being more connected with each other."
***
Second place: Sealed Air YMCA, 8501 Campus Drive, Mount Pleasant
Third place: Planet Fitness, 5748 Durand Ave., Racine
***