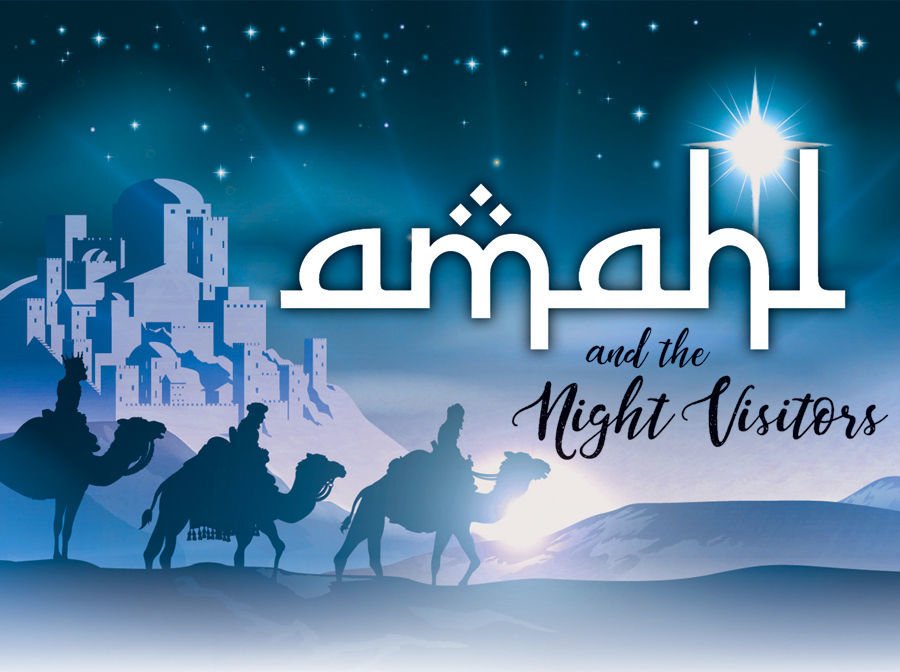 A new production presented by Racine's Belle Ensemble at the The DeKoven Center gives audiences the chance to extend the wonder of the holiday season into the New Year.
"Amahl & the Night Visitors," a beloved one-act opera that's appropriate for all ages, will be performed at 7:30 p.m. Thursday and Friday, Jan. 9-10, in the The DeKoven Center Great Hall, 600 Caron Butler Drive. An optional dinner-and-show package is also available, featuring a themed meal before the show.
Written by Pulitzer Prize-winning composer Gian Carlo Menotti, "Amahl & the Night Visitors" was originally commissioned by NBC for television broadcast in 1951. It was the first opera specifically composed for television in the United States and an estimated 5 million people watched the live broadcast that year. Since then, "Amahl" has been performed many times on both screen and stage, and has become a favorite holiday tradition for many families.
Based on the well-known story of the Magi (Three Kings) on their way to Bethlehem, it tells the tale of a young shepherd boy named Amahl, who uses a crutch to walk; his poverty-stricken mother, raising him alone; and the miracle that occurs when they are visited by three mysterious kings one night. "Amahl" is a story of redemption, generosity and hope, told in a way that appeals to both children and adults.
"I've always loved 'Amahl & the Night Visitors'," said Nick Barootian, Belle Ensemble director. "Many people do. I think part of its universal appeal comes from the central relationship of Amahl and his mother."
Very few things are true of everyone, but it is true that everyone has a mother, the director explained. That mother is not perfect, and yet (often) we absolutely adore her anyway, he said.
The opera's appeal is also due, in part, to Menotti's having drawn from his own memories of growing up in Italy — where Christmas gifts were brought by Three Kings rather than Santa Claus — in creating it.
"I think the great degree to which Menotti invested himself in this story comes through in the sparkling, dancing and hauntingly beautiful lines of music he wrote for these characters, who continue to enchant audiences each year with their love for one another," Barootian said.
The Belle Ensemble's production of "Amahl" will feature Erin Sura, mezzo-soprano, as Amahl's mother; Cameron Smith, tenor, as King Kaspar; Ryan White, baritone, as King Melchior; Aaron Bolden, baritone, as King Balthazar; and Lucas Alumbreros as Amahl.
Tickets
This production will also include a live orchestra, a chorus, dancers, full costumes and scenery. Tickets cost $20 for adults and $10 for youth or students (with ID). They can be purchased online at belleensemble.org or by calling 262-902-2624.
The dinner-and-show package costs $45 and includes a themed meal, served prior to the show at 6 p.m. in DeKoven's Taylor Hall. The "Kings of the East" menu will feature roast lamb with creamy mustard béchamel sauce, jeweled saffron rice pilaf and za 'tar roast carrots. It will also include salads, pita bread and golden black licorice crème brulee tarts. A wine and beer cash bar will be available. Combination dinner/show tickets are available through Jan. 3.
Belle Ensemble
Founded in 2015, the Belle Ensemble is a singers' collective whose focus is on performing vocal chamber music. The ensemble also works to promote collaboration among local and regional musicians and artists.
Its production of "Amahl & the Night Visitors" is supported, in part, by a grant from the Racine Arts Council's ArtSeed program, funded by Real Racine; and by the Wisconsin Arts Board, with funds from the State of Wisconsin. It is also made possible with support from The DeKoven Center.
DeKoven Center
The DeKoven Center is a historic, lakefront campus located south of Downtown Racine at 600 Caron Butler Drive. The Great Hall is in DeKoven's East Buildings, facing Wisconsin Avenue, and Taylor Hall is on the west side of campus, a short distance from The Great Hall. Free, onsite parking is available. For more about DeKoven, go to dekovencenter.org.