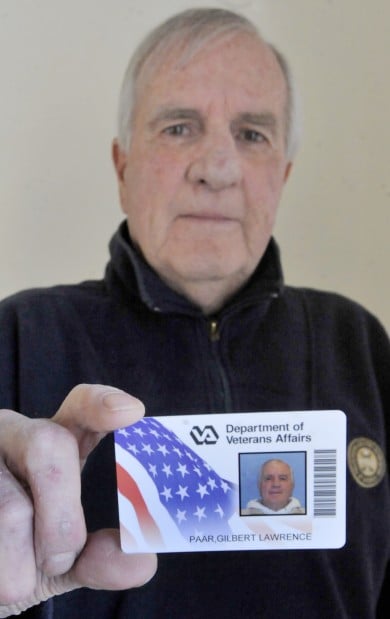 MOUNT PLEASANT — A local man wasn't allowed to use his veteran's card to vote in Tuesday's primary and he's pretty steamed about it.
Gil Paar, 69, of Mount Pleasant, said he went to his polling place, Peace Lutheran Church, and when asked by poll workers to provide the ID, he handed over his U.S. Department of Veterans Affairs card. The poll workers said the ID, which includes Paar's photo, wasn't considered an acceptable form of identification under the state's new voter ID law, Paar says. They asked him if he had a driver's license he could offer. He did, he said. But he refused to show it and didn't vote.
"Basically I was trying to make a point," Paar said. "I gave them four years of my life, why shouldn't I be able to use my vet's card?"
Paar said he was shocked to learn that the card, which he uses to receive his VA benefits, isn't an acceptable form of ID under the law, noting that VA cards are the only form of identification some veterans have. He has already reached out to the VA about the problem as well as to the offices of Sen. Herb Kohl and state Rep. Robert Turner, D-Racine, he said.
Signed into law last May, the voter ID law requires voters to present a driver's license, state ID, passport, military ID, naturalization papers or tribal ID in order to vote. A photo ID from a college or university can be used but it must have an issuance date, an expiration date, and a signature. In order to use the ID to vote, a student must also provide a document proving current enrollment. 
The reason Paar wasn't allowed to use his VA card is simple, Government Accountability Board spokesman Reid Magney said: Lawmakers who authored the bill did not include VA cards as an acceptable form of ID.
"The law saws that it must be a military ID issued by a U.S. uniform service," Magney said. "A veterans card is issued by the Department of Veterans Affairs."
Linda Fonk, a backup inspector at Paar's polling place, said she turned Paar away only after checking with both the Mount Pleasant and Racine County clerks to make sure his VA card wasn't acceptable. She noted that another voter who first provided his veteran's card had no problem presenting his driver's license, when poll workers asked him for it.
"There is no exception in the law for people who object to the law," Magney said. "Most Wisconsin voters already have the ID that they need to vote. If they don't they can get a free ID card at the (Department of Motor Vehicles)."
Poll workers at several city polling places and Jane Witt, chairwoman of the Racine County Democratic Party, said few problems, if any, were reported Tuesday.
Anyone who has questions about what they need to bring to the polls next election should visit bringit.wisconsin.gov, Magney said.
Be the first to know
Get local news delivered to your inbox!