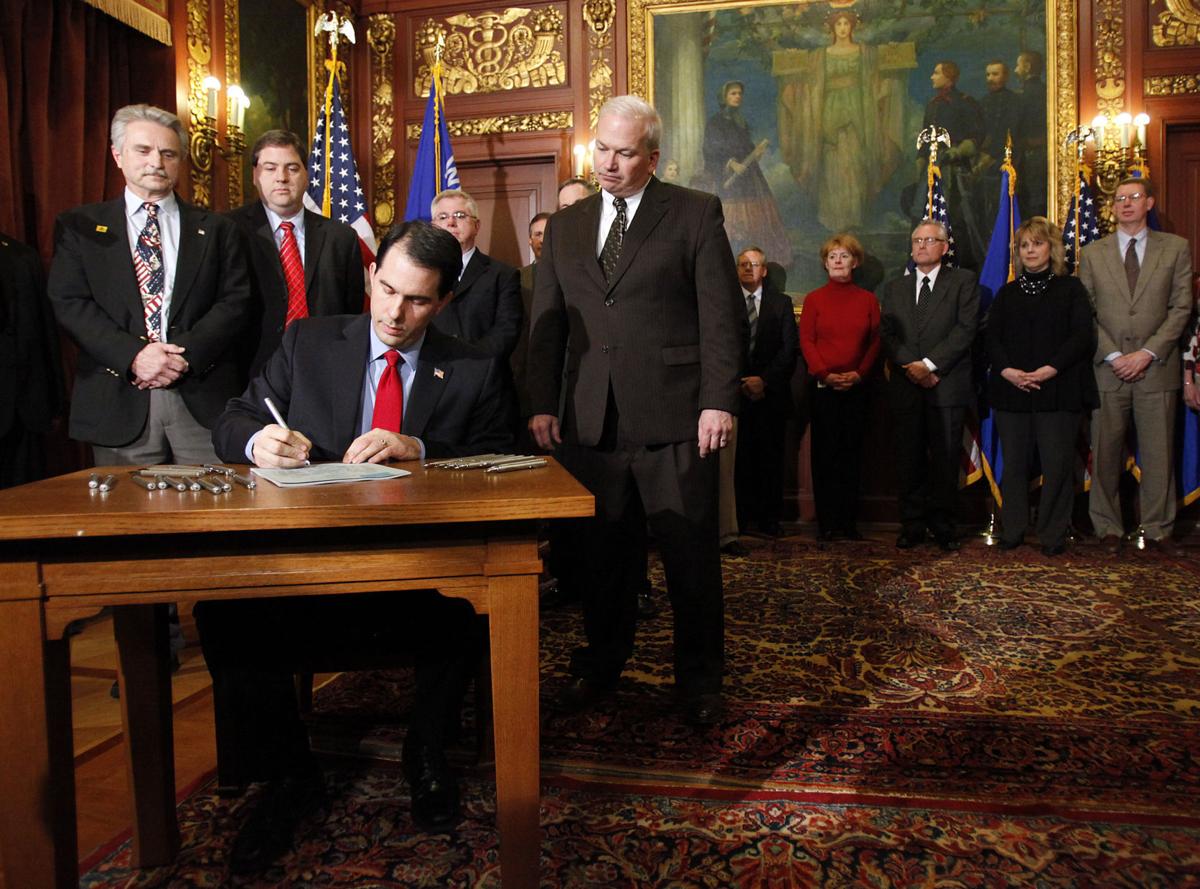 Former Republican Gov. Scott Walker, the architect of Act 10, may have been defeated by Democrat Tony Evers in 2018, but his successor hasn't yet proposed a full repeal of the controversial legislation. That's a sign, in Walker's view, that his signature legacy has withstood the test of time.
"I believe it's a legacy that works, because despite my successor introducing a budget about a year and a half ago that included about everything on the liberal wish list, the one thing that was not included: an outright repeal of Act 10," Walker said. "I think that's a reflection that it works, and that repealing it would devastate schools, local governments and state government."
A decade later, Walker said he views Act 10 as one of the best things he's done for the state, referencing a report that estimates Act 10 has reduced state and local government spending by more than $12 billion. He also touts provisions in the law that did away with union protections for seniority over merit, something he said empowers local school boards to hire the best talent.
To deal with a more than $3 billion budget deficit at the time, Walker said he knew he had to propose something that went beyond a Band-aid approach, and instead put forth a proposal that would change how schools and local governments operated to prevent them from laying off large numbers of employees.
He assumed the bill would get pushback but never anticipated the sustained, vitriolic protest that ensued. Looking back, he said he thinks those protests only served to reinforce support among Republicans for the legislation.
"It reminded them that we were in this together, we were going to get through this, we were going to do it for the right reasons," Walker said.
The recalled telling a reporter at the time that protesters had a right to be heard, but that his obligation was to his voters.
"More than a million people in Wisconsin voted for me in the 2010 election to do precisely the things that I'm doing right now through this process, and I'm not going to let the voices of those voters be drowned out by the people surrounding the Capitol," he said.
The former governor said he saw some similarities between the overwhelmingly peaceful protests at the state Capitol and the insurrection at the U.S. Capitol on Jan. 6.
"Some of the images of the U.S. Capitol windows being broke, because our state Capitol building itself was so similar, physically, literally looked like some of the people crawling in through the windows at the Wisconsin state Capitol," Walker said.
Of course, the U.S. Capitol insurrection was an attempt to block a democratic transfer of power, while the Act 10 demonstrations opposed specific legislation. And at least five people were killed in the Jan. 6 attack and dozens of officers injured, while the Act 10 protests were almost entirely peaceful, although Walker and some lawmakers received death threats.
Editor's note: This story is part of a series marking the 10-year anniversary of Act 10. Click here for more stories from people who experienced the historic events firsthand. 
---
Act 10: Full Coverage 
---
Watch now: The Great Divide | 10 stories about Act 10
The most seismic political story of the last decade in Wisconsin began on Feb. 7, 2011, when Republican Gov. Scott Walker informed a gathering of cabinet members of plans to unilaterally roll back the power of public sector unions in the state. He "dropped the bomb," as Walker would describe it afterward, four days later.
The audacious proposal, to be known forever after as Act 10, required public employees to pay more for pension and health insurance benefits, but also banned most subjects of collective bargaining and placed obstacles to maintaining union membership.
The proposal laid bare the state's deep, at times intensely personal, political divisions as tens of thousands of protesters descended on the Capitol. The month-long, round-the-clock occupation drew international attention, but failed to stop the bill.
A decade later, the aftershocks of one of the biggest political earthquakes in Wisconsin history continue to be felt. Taxes have been held in check, and state finances have improved. But public unions are vastly diminished and the state is more politically divided than ever.
Here are 10 stories from people who experienced the historic events firsthand.