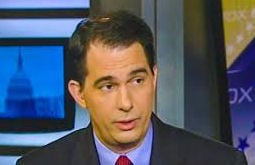 Gov. Scott Walker took to the national airwaves Tuesday night to criticize protesters who demonstrated outside his Wauwatosa home on Monday.
"I just think in the end it backfires because good people at least here in the Midwest realize you can have your disagreements but really taking it out in front of somebody's home, particularly with elderly parents, that's a little too much," Walker said on a Fox News interview.
Schools and Communities United, the liberal group that organized the demonstration, responded to Walker's criticism saying their action was brief, peaceful and meant to draw attention to Walker's proposed cuts to public schools and the University of Wisconsin System.
"Walker needs to hear the concerns of students, parents and educators and not change the subject," the group said in a Facebook message.
Walker said during the interview that his parents, who are in their mid-70s, have lived at the house since he took office. He said Monday's demonstration didn't approach the "literally thousands of protesters" who gathered outside the house during the 2011 protests over Act 10.
Walker isn't the only one pushing back against protesters who demonstrated outside his Wauwatosa home Monday night — the Legislature's top two Democrats say they disagree with the tactic.
"Generally speaking I think it's better off not to visit people's homes," Assembly Minority Leader Peter Barca, D-Kenosha, told the State Journal editorial board Tuesday.
Senate Minority Leader Jennifer Shilling, D-La Crosse, also expressed reservations, especially after seeing protesters at former Sen. Dan Kapanke's house during the 2011 protests. Shilling defeated Kapanke in the ensuing recall election.
"I'm a little reluctant to endorse that sort of idea after 2011," Shilling said. "It's their right. I don't know that I necessarily agree with that."
According to the Milwaukee Journal Sentinel, more than 100 demonstrators were on hand to protest Walker's budget proposal, which includes a $300 million cut to the University of Wisconsin System and a cut next year for K-12 schools.