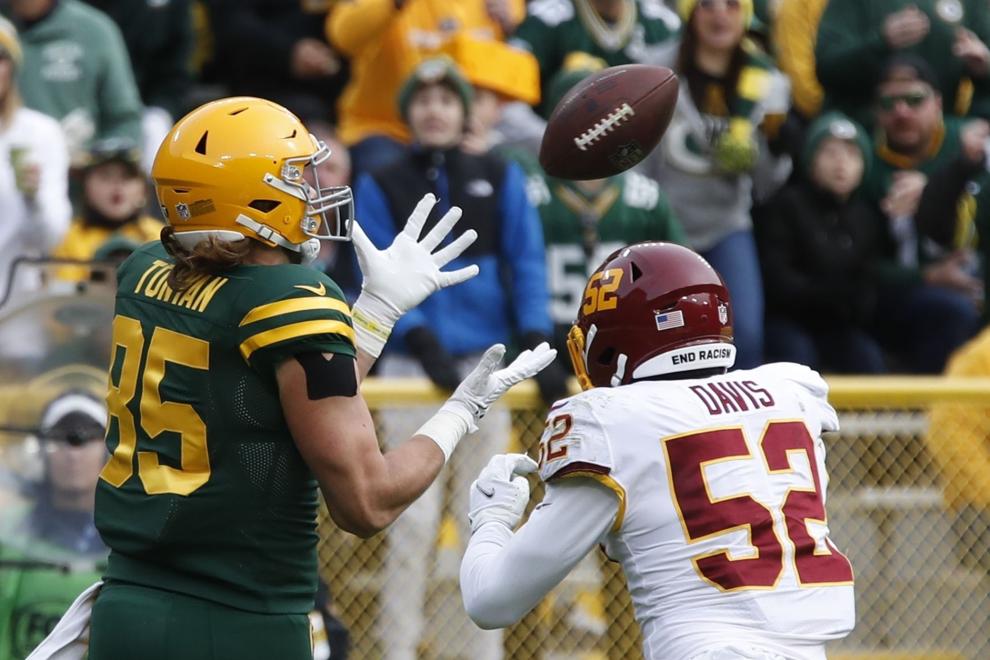 Before Sunday's win over Washington, Packers tight end Robert Tonyan (above) had just 11 receptions for 92 yards on the season. After his four catches for 63 yards, including a 20-yard touchdown, Tonyan — a year removed from catching 11 touchdown passes and being one of the NFC's biggest Pro Bowl snubs — appears to be back after having limited opportunities earlier in the year.
"That was important, I think, for (Tonyan's) confidence. Not that it wavered, but it's always good to be able to ball out like that and be able to watch that back," Rodgers said. "I think there's a lot to be gleaned to be able to watch back your film of positive plays and you having success. We all need it. We all, at different times, need that confidence boost and to be able to go back so recently and see yourself making plays — the plays that you know you're capable of making that you haven't maybe had the opportunities (to make) as many times the first six weeks."
LaFleur said keeping Tonyan in to help in pass protection before getting out on his routes had factored into his production, and the coach also acknowledged that he made "a concerted effort" to get Tonyan more involved against Washington. And without Adams or Lazard, that effort might be redoubled against Arizona.
"I wouldn't say he's had to change his game. It's just, we've played some pretty darn good pass rushes, and unfortunately we've had to use him in a chip position quite a bit," LaFleur said.
Said Tonyan: "It was good to back in the end zone, that's for sure. Every day I go in just doing what is asked of me and what is going to help our team win. And (against Washington) I was a little bit more a part of the pass game, and it feels good — definitely."
---
Jason Wilde covers the Packers for ESPN Wisconsin. Listen to him with former Packers and Badgers offensive lineman Mark Tauscher weekdays from 9 a.m. until noon on "Wilde & Tausch" on 100.5 FM ESPN Madison.