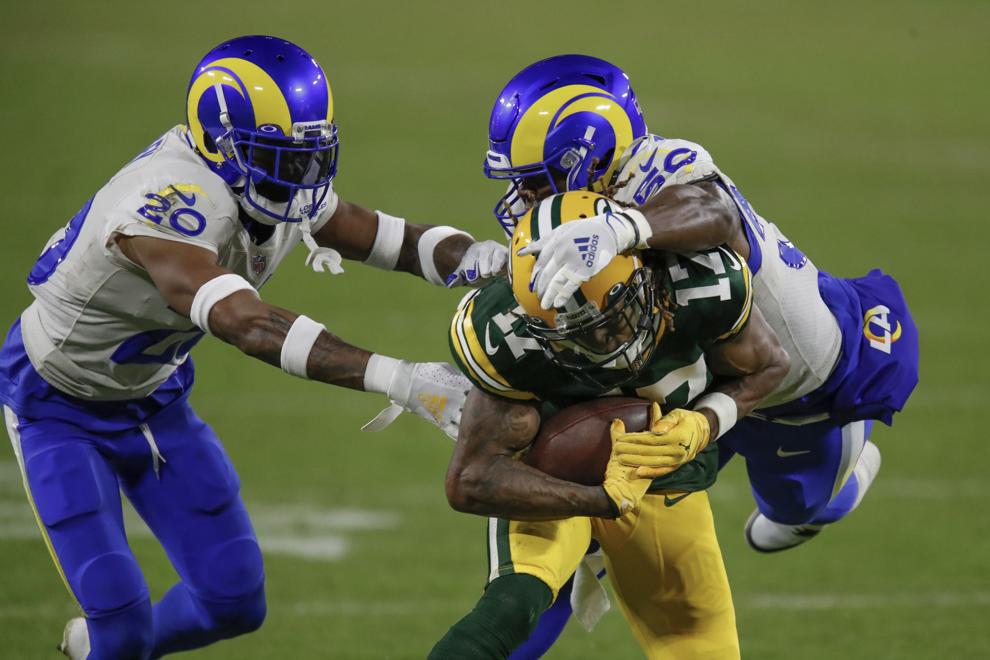 Pitting one of the NFL's top cover corners in the Rams' Jalen Ramsey against arguably the NFL's best wide receiver in the Packers' Davante Adams (above) sounds like a fascinating, get-your-popcorn-ready kind of matchup. And it would be — if it were actually going to happen on Sunday at Lambeau Field.
But barring a major philosophical shift from the Rams defense — something that the Packers have seen other opponents do in an effort to throw Aaron Rodgers & Co. off from the film they'd watched in preparation for games — there will be very few if any mano-a-mano matchups between Ramsey and Adams, just as there wasn't when the teams met in the NFC Divisional Playoffs last year and the Packers won at Lambeau Field, 32-18.
That's because the Rams play predominantly zone coverage in their secondary, so it's not like a man-to-man defense which would likely have Ramsey follow Adams all over the field all game long.
"I'm not really looking at it as the heavyweight bout that everybody did last year," Adams said at midweek. "In that (playoff) game, we had a limited amount of opportunities where we were even going one-on-one.
"Their idea of stopping me definitely wasn't to just go one-on-one clearly because that didn't happen a whole lot in the game. It's not going to be the Davante/Jalen Ramsey show. I would love if it was, but that's just not the way defenses have shown that they're going to play us. Until that happens, then we can talk about it as much as we want. But for now, we're just going to focus on going trying to get a win."
The reason Adams would welcome a direct matchup with Ramsey is because that would mean single coverage — something he rarely gets these days, as he enters the game having caught 72 passes for 979 yards and five touchdowns, despite missing one game after contracting COVID-19. But there will be times when Adams is in Ramsey's zone, and Adams understands what he'll be up against.
"Jalen Ramsey is obviously a very talented player. I've got a lot of respect for what he's doing and he plays into his strengths really well," Adams said. "Obviously, (he's) not going to follow me. He may pre-align to that side, but … we didn't get a whole lot of one-on-one matchups that I wanted (in the playoff game). Like I said, he's a great player. As far as his one-on-one ability, I can't gauge that because my sample size is not what I would like it to be from that game. So, we'll see."