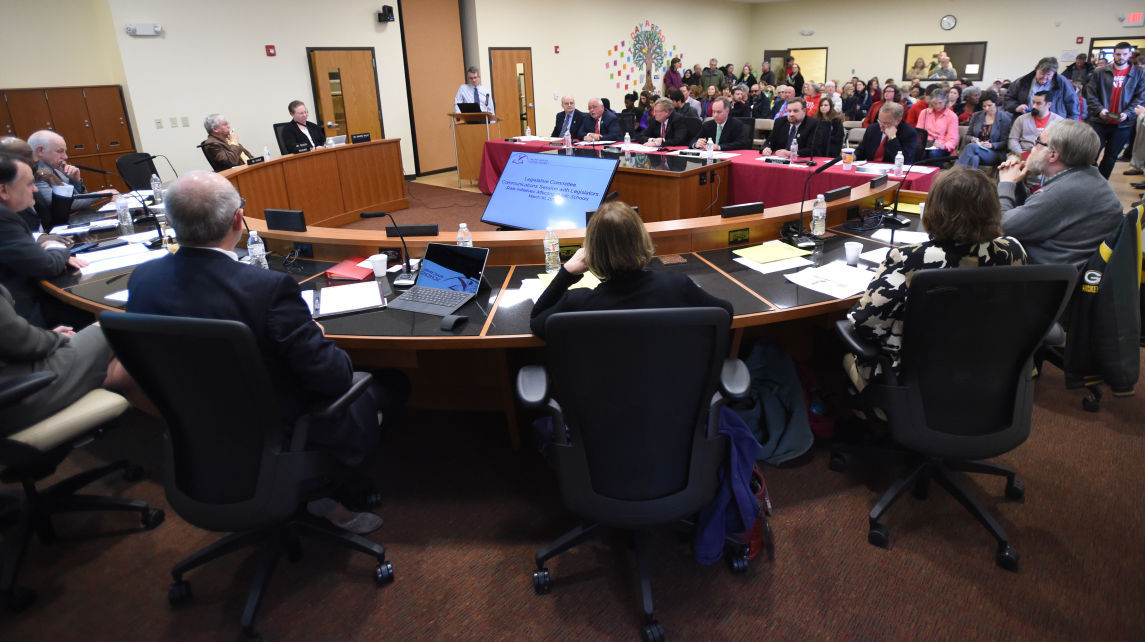 MADISON — As most of Wisconsin slept early Wednesday morning, the state budget committee paved the way for a major change in the Racine Unified School District.
Tucked into a 29-page education proposal, a proposal from Racine-area legislators would change the way Racine Unified School District voters elect board members, going from at-large seats to seats based on geography.
Under the plan, the Racine Unified School Board would draw nine school board districts — similar to how aldermen on the Racine City Council represent areas of the city.
The measure dictates that the board must aim for equal population in each district and align the districts, as much as possible, with the geographic boundaries of municipalities.
The change was inspired by a movement by some in outlying communities to break away from Racine Unified. Many in Mount Pleasant, Sturtevant and Caledonia feel the city of Racine is over-represented on the board and that their concerns aren't being heard, Racine-area Republican legislators said.
Six of the nine current school board members live within City of Racine limits.
"It's really just a way to ensure that every community has skin in the game as far as making sure they have representation in Unified," said Assembly Speaker Robin Vos, R-Rochester.
The plan still needs approval from the full Legislature and Gov. Scott Walker. If included in the final version of the budget, which is expected to be adopted next month, the change would take effect for the 2016 election and put all nine seats on the board up for election at once.
State Rep. Cory Mason, D-Racine, said the measure essentially invalidates past election results.
"For the State of Wisconsin, under Republican control, to basically nullify Racine duly elected officials and make them run again in the districts that they would prefer is not only an assault on local control, but democracy," Mason said.
Alternative to separation?
The language was drafted by the offices of state Sen. Van Wanggaard, R-Racine, and state Rep. Thomas Weatherston, R-Caledonia.
You have free articles remaining.
Geared only toward Racine Unified, the bill states that school board members in a "unified school district that encompasses a city with a population greater than 75,000 but less than 100,000 and that encompasses at least two villages" must be elected by districts.
The Joint Finance Committee passed the plan on a 12-4, party-line vote, with Republicans approving the measure.
The education proposal, which also included an expansion of vouchers, the reversal of a $127 million cut to public schools and creation of a special needs voucher, reportedly passed at about 1:30 a.m. Wednesday.
The language targeting the Unified School Board was publicly unveiled just a day after a controversial School Board vote allowing employee unions to maintain a key role in discussions on changing the employee handbook.
Legislators said their school board proposal was in the works weeks before that vote. However, Vos said the board's vote showed "(board members) saying, 'rather than doing the things that are best for kids, we're going to protect the unions.' "
"That's a reminder why we have to have a school board that represents the whole community, not just a school board that represents a subset," Vos said.
Weatherston, Wanggaard and Vos also said reshaping the School Board may be a better alternative to creating new school districts.
"I see this as a better solution than busting Unified up with Caledonia, Sturtevant and Mount Pleasant leaving it," Weatherston said, citing concerns over the financial impact and an "uphill battle" of passing a state law change to make such a move viable.
'Dead of night'
Mason and other Democratic legislators criticized the timing of the vote coming in the overnight hours and said the proposal should not have been included in the state budget bill.
"This is the type of change that should have been proposed as (separate) legislation with a public hearing," said state Sen. Bob Wirch, D-Somers. "This is not something that should have slipped into the budget in the dead of night."
The Unified School Board plan is just one component of a "radical" education proposal, said Mason, who cited the voucher expansion, phase-out of the Chapter 220 school integration program and future possibility of a Racine County executive-appointed commissioner taking over low-performing Unified schools.
"It is hard for me to imagine how they could provide a plan that would be worse for public schools in Racine than the one they passed," Mason said.
"It's as bad for public education as Act 10 was for bargaining rights."