UW-Madison is celebrating 100 years of history at Camp Randall Stadium with the Camp Randall 100, a list of the most influential figures in the stadium's past. 
So far the list has included national figures such as Jesse Owens, Burt Reynolds and Katie Couric, as well as Badgers standouts such as Red Wilson, Pat Richter and Brooks Bollinger. 
Each week the State Journal is recapping the recent additions and linking to their stories on CampRandall100.com. Here is the third group of Wisconsin honorees. 
As UW-Madison chancellor, Donna Shalala made history as the first woman to oversee a Big Ten institution. In just over five years leading the Badgers, Shalala fell in love with Madison, making it difficult for her to leave.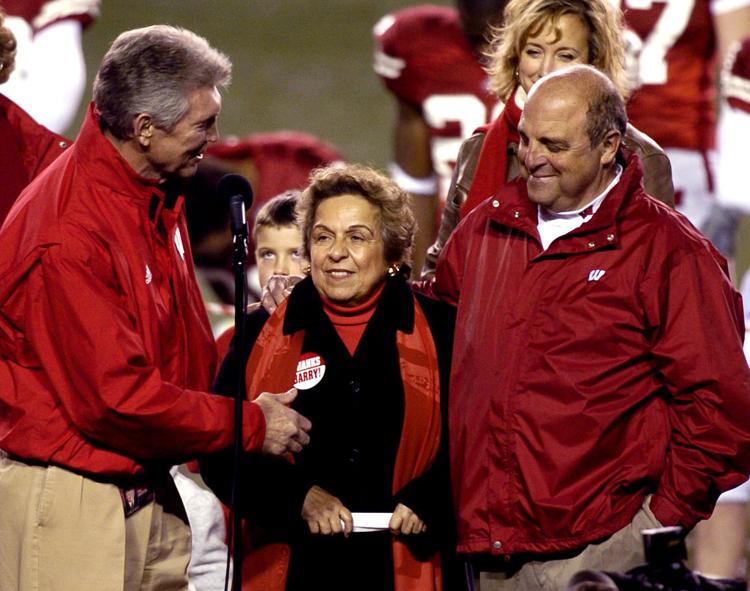 After helping revamp the athletics program, an effort that included bringing in Pat Richter as athletic director, Shalala left Madison to become U.S. Secretary of Health and Human Services, a job she held throughout Bill Clinton's presidency.
After serving on Clinton's cabinet, Shalala went on to spend 14 years as president of the University of Miami before leaving in 2015 to serve as chief executive officer of the Clinton Foundation. Earlier this year she left the foundation to return to Miami as an endowed chair in the political science department, but she's still a proud Badgers football season-ticket holder and visits Madison whenever she can. 
Playing for the Badgers football team from 2007-10, David Gilreath scored touchdowns from all over the field. In addition to scoring on receptions and rushes, Gilreath also got in the end zone on a punt return and kick return.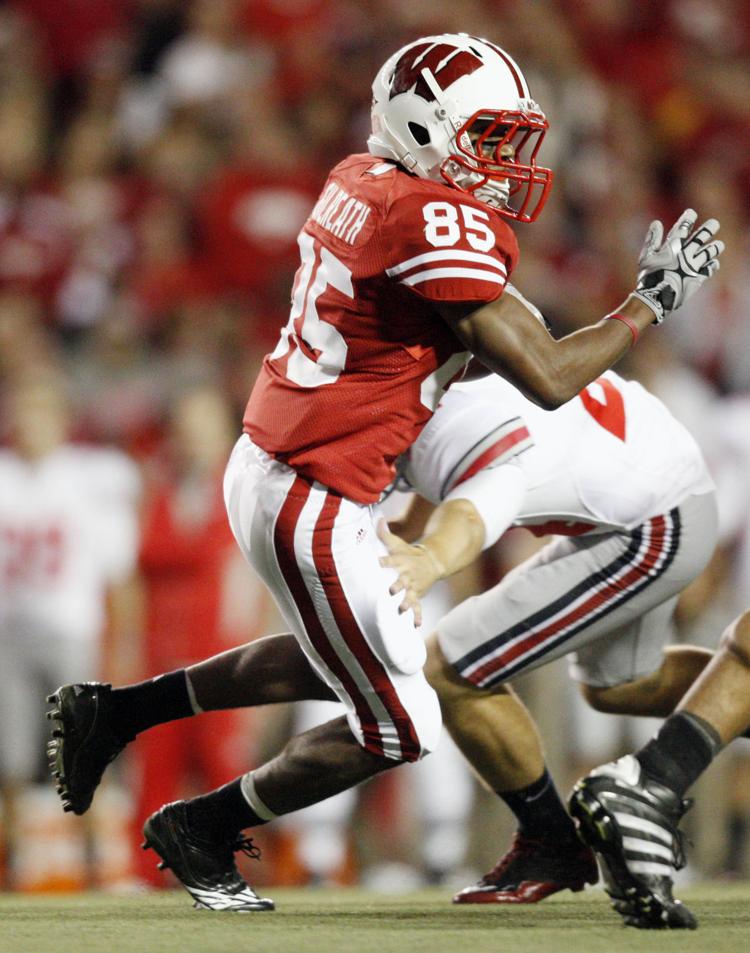 Despite only starting 17 games for the Badgers, Gilreath is in the top ten in team history in 17 different categories. But, for many Badgers fans, one of Gilreath's plays stands above the rest. 
In front of ESPN's College GameDay crew and a capacity crowd at Camp Randall, Gilreath returned the opening kickoff 97 yards for a touchdown against top-ranked Ohio State on Oct. 16, 2010. The score set the stage for the Badgers' 31-18 upset over the Buckeyes and helped Wisconsin claim a share of the Big Ten title and a berth in the Rose Bowl. 
After five years of inactivity, Phil Collins and Genesis released the band's 14th studio album, "We Can't Dance," in October 1991. While the band's North American tour in support of the album was mostly held at NFL stadiums, Camp Randall landed a concert on June 9, 1992. 
The stadium had hosted its first major concert four years before when Pink Floyd played to a crowd of over 45,000.
With a capacity set at 50,000 for the Genesis show and tickets going for $25, the concert nearly sold out, drawing a reported 48,015 fans. 
The concert ran nearly two and a half hours, and the stage, set in the south end zone, featured a five-story set and three 40-foot television screens. 
A future Patty Kazmaier Award-winner and U.S. Olympian, Brianna Decker got off to a rough start as a freshman on the Badgers women's hockey team. Just two games into her rookie season, Decker broke her right elbow while scoring a goal against North Dakota. 
Despite the rocky start, Decker's Badgers career, which went from 2009-13, was not without its highlights. Decker ranks second on the Badgers' career scoring list with 244 points and she's one of only five Patty Kazmaier Award-winners to play for the Badgers.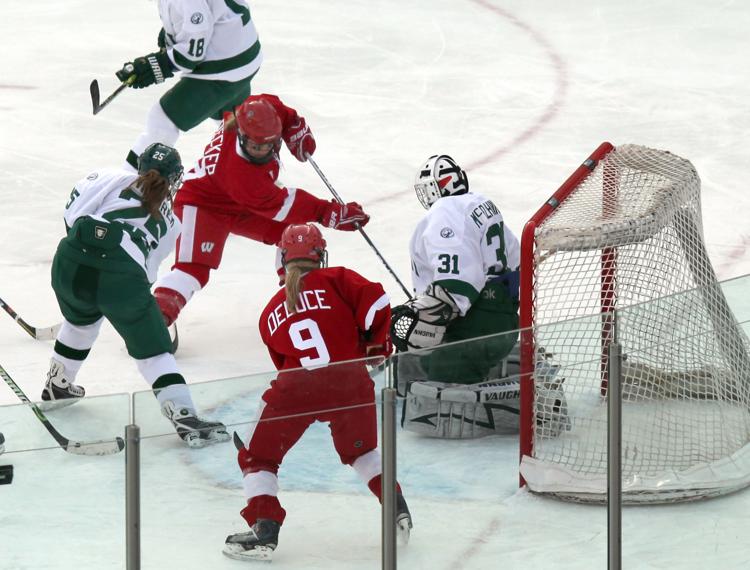 One Badgers game stands out for Decker, who won a silver medal with Team USA in the 2014 Winter Olympics. On Feb. 6, 2010, Wisconsin played Bemidji State outdoors as part of the Camp Randall Hockey Classic. Decker, a freshman who had missed nine games to due the elbow injury, scored two goals and helped the Badgers win a 6-1 decision. 
An Ohio native who earned his undergraduate and master's degrees from the University of Michigan, Ivy Williamson took over as head coach of the Wisconsin football team in 1949.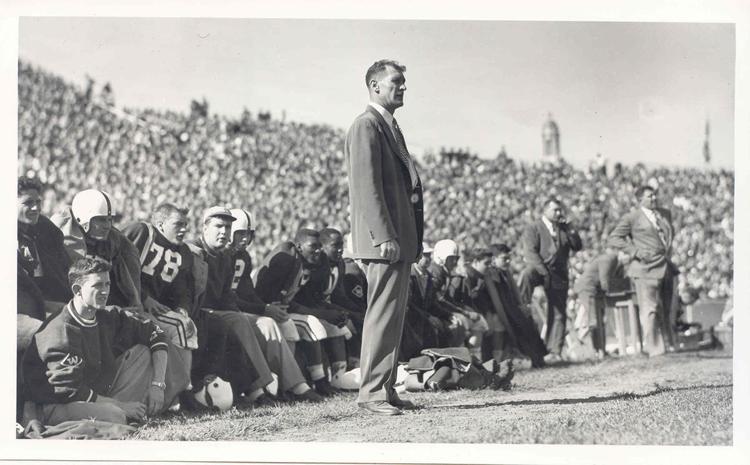 In 1951, Williamson's team led the nation in total defense, with the unit earning the nickname "The Hard Rocks." The next season, Williamson led his team to the Rose Bowl, its first-ever bowl game, after a regular season that saw Wisconsin in the top spot in the Associated Press' college football poll for the first, and only, time in school history. 
Williamson stepped down as head coach in 1955 and became athletic director. He served 13 years as athletic director, overseeing the renovation and expansion of Camp Randall Stadium to 77,000 seats. 
While broadcasting college football games for ABC, Keith Jackson called some classic Badgers moments. In 1974, Jackson called a game between Wisconsin and fourth-ranked Nebraska and said it was "one of the great games in Wisconsin football history."
Late in the fourth quarter with the Badgers trailing 20-14, Badgers quarterback Gregg Bohlig completed a 77-yard touchdown pass to Jeff Mack. After Vince Lamia made the go-ahead extra point, Steve Wagner ended Nebraska's hopes with an interception.  
Jackson was back at Camp Randall in 1993 as the Badgers hosted Ohio State on a chilly November day that led Jackson to state, "Life is seldom tolerable in the ninth week of the Big Ten season." The game ended in a 14-14 tie, which would later prove key to the Badgers returning to the Rose Bowl for the first time since 1962. 
After graduating Waukesha West High School, Joe Schobert was ready to enroll at the University of North Dakota. But Bret Bielema, then head coach of the Badgers football team, made Schobert a last-minute offer that was too good to pass up.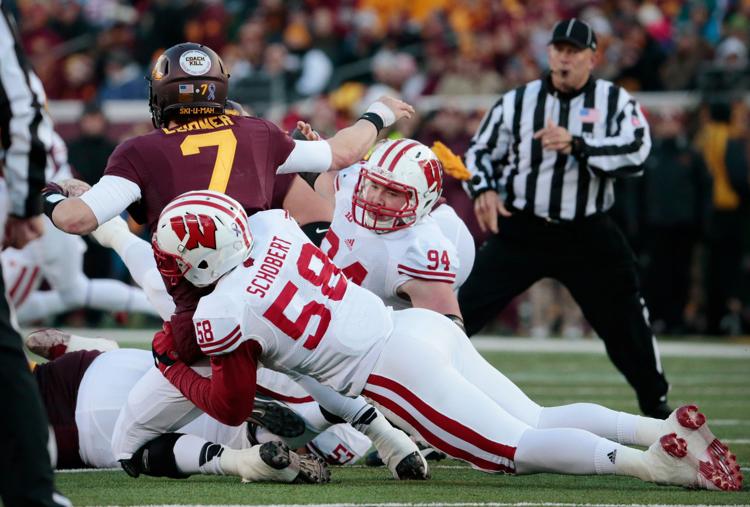 Bielema's offered Schobert, who had failed to land an FBS scholarship, a chance to stay in his home state as a preferred walk-on. After lettering on special teams as a freshman, Schobert found his calling at linebacker.
Schobert left his mark on Camp Randall before he even joined the Badgers. While playing for Waukesha West, Schobert put up a record-setting performance in a rout of Stevens Point in the 2010 state title game in Madison. Schobert ran 38 times for 296 yards, breaking the WIAA Division 1 single-game mark held by Racine Park's John Clay, who went on to play for the Badgers and is fellow member of the Camp Randall 100, who had 19 carries for 259 yards in 2005.
In 2015, Schobert was named Big Ten Linebacker of the Year, a first-team All-American and won the Jack Lambert Award. He went on to be drafted by the Cleveland Browns with the 99th overall pick in the 2016 NFL draft.