RACINE COUNTY — Now we know which insurers will offer health plans via the new Affordable Care Act exchanges. What remains to be seen is how well they'll work.
In this county the exchanges, which are supposed to go live Oct. 1, will offer four insurers for individuals and two for small employers, which would shop at a separate exchange, the state announced Thursday.
The exchanges are where people who must buy their own health insurance will have to shop. That group will include current BadgerCare members who exceed 100 percent of the federal poverty level or anyone who is uninsured.
Marquette University Law School professor Alison Barnes, an expert on the ACA, said about Racine County's exchange options east of Interstate 94, "The problem that you're having is a common one throughout the country: Some markets have many providers ... and some markets only have one."
On the flip side, Barnes said, "If you only have two or four choices, you only have so much investigating to do." As for how easy or difficult that comparison shopping will be, Barnes said, "I think in Wisconsin it's going to be tough." Other states have worked to set up their exchanges so comparisons are as easy as possible.
"That kind of clarity, you're not going to see it (in this state) on Oct. 1," she predicted. Gov. Scott Walker's decision that Wisconsin would not set up its own ACA exchange throws state residents and businesses onto the federal exchange.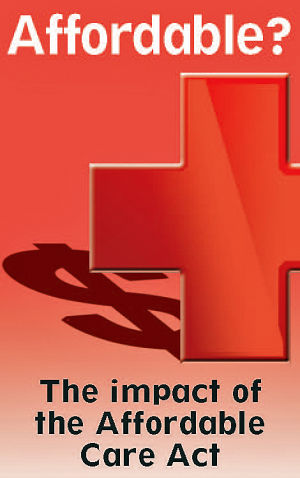 Someone who sees several potentially sticky issues with the list of insurers on the exchange is Mike Farrell, president of the Wisconsin Employee Benefits Advisors Association. He is an employee benefits consultant at David Insurance, 1300 S. Green Bay Road, who advises public and private employers on health insurance options.
"Common Ground is a co-op with no history of insuring anybody for anything ... but they have been approved to participate," Farrell commented.
"Who is not participating is every big insurance company you have ever heard of," Farrell added, naming Anthem Blue Cross, Humana and UnitedHealthcare. All are David Insurance clients on group health insurance options.
Common Ground was created by the ACA and a $56.4 million federal loan just to sell insurance on the exchanges. Therefore it has no track record, Farrell pointed out.
Barnes said about the untested Common Ground's role, "It's certainly important and could be very technical in certifying what kinds of policies can be sold. You could do this at many levels of expertise, and I don't know what they're bringing to the table."
---
In Racine County, the choices for people who buy insurance plans as individuals on the new Affordable Care Act exchanges which are scheduled to become active Oct. 1 are:
• Common Ground Healthcare Cooperative, which covers both Wheaton Franciscan providers — which includes All Saints hospital, 3801 Spring St. — and Aurora providers through Common Ground's Trilogy network.
• Compcare Health Services Insurance Corp., which administers the health plans sold under the Anthem Blue Cross name. The network is predominantly built around Aurora Health Care providers and does not include Wheaton Franciscan facilities.
• Molina Healthcare of Wisconsin. A search for Racine-area hospitals on the Molina website Thursday turned up some Wheaton Franciscan facilities, but not All Saints hospital on Spring Street. It did show Aurora Memorial Hospital of Burlington.
• Arise Health Plan, a Wisconsin Physicians Service offering. As of late last week, the Arise website shows the Aurora facilities and network, but none for Wheaton Franciscan.
The choices for employers on a separate exchange:
• Common Ground.
• Arise.
---
Tell us your health care story
The Journal Times has been reporting on the new national health care law for months and will continue to do so, including consumer-oriented national and local coverage in the days and weeks to come.
For stories so far and other resources, visit us online at journaltimes.com/healthcare.
At that page, click on "Tell us your health care story" if you will be willing to speak with a journalist about the health care experience you'll have under the law — good or bad.