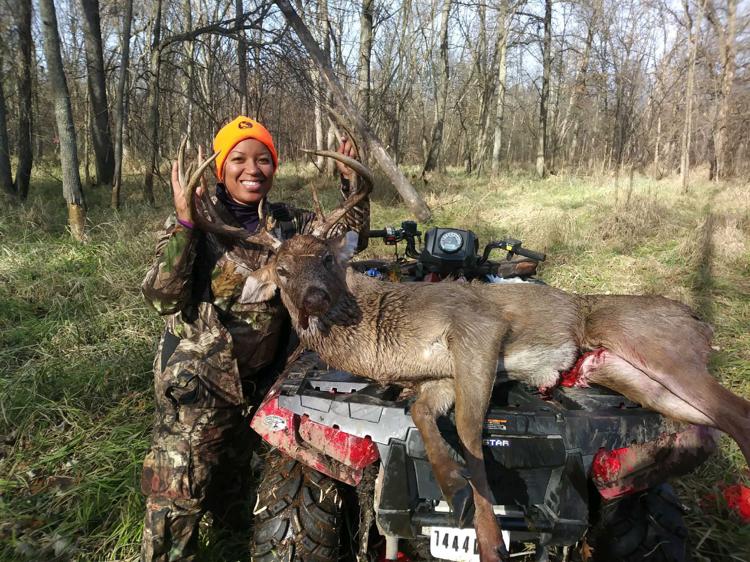 RACINE — The 2017 hunting season had not begun well for Tiara Harrell. The 35-year-old pharmacy technician had seen a deer on opening day, but it ultimately got away.
"I was a little disappointed," said Harrell, who grew up in Racine and now lives in Kenosha. This was her fifth year hunting deer.
But things were going to get much, much better.
On Nov. 19, Harrell was hunting with her father, Ernest Ormond, of Racine. Slightly discouraged, Harrell left her tree stand and went to visit Ormond, who was hunting within another section of the privately owned land in Iowa County, near Richland Center.
After talking with her father, Harrell decided to head back out on her own.
"She had a feeling she was going to see something," Ormond said.
At approximately 11 a.m., Harrell was sitting in a tree stand when she saw a doe run across her field of vision. A few moments later, she saw a large buck following the doe.
"It caught my eye," Harrell said. "I'd never seen a deer that big in person. He was running, so I kind of gathered myself together because my adrenaline was going and I breathing was so hard."
Harrell picked up her gun and followed the buck in her sights for 25 to 30 yards, she said, before she got the opportunity to shoot. She shot the buck below the neck, downing her third deer ever.
It was a 12-point buck that weighed more than 200 pounds, Harrell said.
"I was proud of myself because I did it on my own," Harrell said. "It takes a lot of patience, and I had waited all day for that perfect opportunity."
Ormond was a little more than a mile from his daughter when he heard the shot. He called her over the walkie-talkie, and when she responded, he made the trek over to where his daughter was.
"I told her, 'Girl, you done shot big boy,'" Ormond said. "I told her 'You got a monster. You got the king of the woods."
After arriving home with her trophy buck and a smaller doe, Harrell's children were equally enthusiastic.
"They were all trying to come and see the buck," Harrell said. "They went to school telling everybody about it."
A family tradition
Hunting is a tradition in Harrell's family. "My grandfathers, uncles and all the men in my family have always hunted," she said.
Ormond, a 59-year-old retired press operator from Western Publishing, was raised in Mississippi. He began fishing and hunting in the woods with his own father when he was 6 or 7 years old.
"I was raised as an outdoorsman," said Ormond, who moved to Racine in 1961.
When he and Harrell's mother, Sylvia Adams, raised their two children, they decided to also introduce them to the outdoors. "I taught both of my kids how to survive in the woods and to prepare ourselves really well for all conditions," Ormond said.
Harrell and her brother began small-game hunting with her father when she was 8, and Harrell hopes to carry on the same tradition with her own children. She takes her 10-year-old son squirrel hunting, but next year, plans to take him deer hunting.
Harrell's daughters, 16 and 4, have also showed interest after seeing their mother's success in hunting.
"I'm the only grandchild that hunts, and the only girl," Harrell said. " I want to make sure my son learns, and I'm trying to get my cousins more into it. I want to keep hunting in the family — I don't want it to stop. It's really important."
And although Ormond finished the season without getting his own deer, he is happy his daughter was able to get a big buck.
"She out-shot the men this year," Ormond said. "She got the biggest buck that was shot of any man up there. I'm proud of her, she filled the freezer this year."