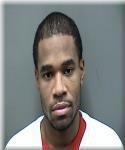 RACINE — A jury returned a guilty verdict Wednesday for the Milwaukee man accused of shooting and killing his girlfriend in a wooded area in Yorkville.
Deliberations took a little more than two hours, as jurors contemplated whether Sammie Miller killed his girlfriend Audrey Scott in the early morning hours of July 4.
Miller, 29, was found guilty of first-degree intentional homicide and possession of a firearm by a convicted felon.
The shooting allegedly stemmed from a fight that began at a downtown Milwaukee tavern. Video surveillance exhibited during the trial showed Scott and Miller getting into a physical altercation at the bar. The video also showed Miller fighting Scott's female cousin, whom he reportedly mistook to be a man talking to Scott.
Other footage from outside the bar shows Scott walking away alone and using her cell phone after the fight with Miller. It was the last time the 28-year-old mother of two was seen alive. Scott was reported missing shortly after.
Her body was later recovered on Aug. 30 in Yorkville in a wooded area near Apple Holler on Sylvania Avenue.
'Unlucky parade of coincidences'
Special prosecutor Michael J. Lonski started closing remarks by stating that most people behave better in public than they do in private. He then showed the video of Miller getting into a fight with Scott's cousin the night she disappeared, a video he showed earlier in the trial.
"He behaves like an animal who is out of control in public. How do you think this guy is going to behave when he is mad?" Lonski said. "He's going to behave like he did behave — he's going to kill an innocent person and that's exactly what he did here and there's been plenty of evidence showing that he did it."
Lonski pointed to the testimony of the eyewitness to the crime, whom The Journal Times is not naming because of his defense attorney's fear for his safety. While testifying, the eyewitness claimed to be with Miller when he shot and killed Scott, breaking down and crying when asked about what Scott mentioned before her death — her kids.
"You saw (the witness) on the witness stand. He does have a conscience," Lonski said. "I don't think there is a human being who watched him testify who would say the man doesn't have a conscience."
Lonski also pointed to cell phone evidence, which shows Miller communicating with the eyewitness and Scott during the early morning of July 4, and Miller's cell phone traveling to areas that corroborated what the eyewitness said.
"Either he's the most unlucky man in the world, or he's guilty," Lonski said. "And I say that because either what you heard for the last two days is proof of guilt, or it's just the most unlucky parade of coincidences showing guilt."
Credibility of witnesses
Russell Jones, Miller's defense attorney, called the witness' credibility into question, answering the prosecution's claim that the witness would have no reason to lie about witnessing the murder. Jones stated that the witness had immunity in the case, which may have affected his testimony.
"We know he's lying about what he saw because he wants to add to his story," Jones said. "Why does he want to add to his story? Immunity. He has a motive to lie here. He was given immunity Thursday … 'I better sell the story. I better make it good. I want my immunity.'"
Jones questioned whether the eyewitness was involved in Scott's murder, stating that he led police directly to where Scott's body was, an out-of-the-way place that would have been difficult to find. He also claimed that the witness may have been pointing the finger at Miller to take suspicion off of himself.
Jones also pointed to the state's lack of fingerprints, DNA, shell casings or bullets, stating that nothing physically ties Miller to the crime scene, and he took issue with the cell phone expert that the prosecution presented, disputing the fact that he was considered a witness.
Jones explained that Miller's lack of use of his cell phone between the hours of 4 and 9 a.m. did not indicate his guilt, as most people are asleep during those hours, something the prosecution provided as evidence that Miller was involved in Scott's murder.
"Every piece of evidence, you have a reasonable explanation as to why you would pause before you make that decision on that verdict, and if you pause, you have reasonable doubt," Jones said.
The verdict
Ultimately, the jury agreed with the prosecution, finding Miller guilty of both felony counts.
Jones was disappointed with the verdict. "I feel for the victim's family and I feel for the fact that there was a homicide here, but I just don't think there was enough evidence to convict Mr. Miller," Jones said.
Following the reading of the verdict, Scott's friends and family, who attended the entirety of the trial, stood in a circle outside the courtroom, smiling and hugging each other.
"I'm happy with it," Lonski said of the verdict. "I think it's the right verdict, and I'm glad this family has got some closure."
For the first-degree intentional homicide charge, Miller faces a maximum sentence of life in prison. For the possession of a firearm by a convicted felon charge, he faces up to 10 years in prison and/or a fine of up to $25,000.
Miller is scheduled to be sentenced at 1:30 p.m. on July 27 at the Law Enforcement Center, 717 Wisconsin Ave.