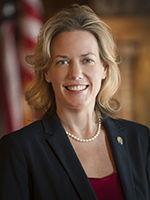 SOMERS — Since the announcement in August that Foxconn is coming to Racine County, all eyes have been on Mount Pleasant. But just to the south in the Village of Somers, some are keeping a wary eye on the development area.
While Mount Pleasant and Racine County have been bracing for the largest business development in state history, Kenosha County and Somers have been making preparations of their own for the massive development.
Kenosha County Executive Jim Kreuser said he has been in communication with Racine County Executive Jonathan Delagrave and officials at the Wisconsin Department of Transportation about the work that is planned for Highway KR, which is to be transformed from a two-lane rural highway into a six-lane highway between Interstate 94 and Highway 31.
"When you have this big of a project, there's going to be some bumps, but we're trying to minimize the bumps," said Kreuser, the county's chief elected official for a decade and former state legislator.
Kreuser said "it's a different ballgame in Somers right now," adding that the village is in a good position to benefit from Foxconn.
"We're going to be looking at making more safety improvements on some of our own roadways that were probably on the back burner, that now — with more traffic — we ought to be more cognizant about over time," Kresuer said.
State Rep. Samantha Kerkman, R-Salem Lakes, whose district includes the portion of Somers near Foxconn, said the work being done on the roads in the area is one of the quickest-moving projects "the area has ever seen."
"The first concern is the roads and making sure information gets out to the residents about different detours and closures," Kerkman said. "Things are moving quickly on so many different fronts."
Kerkman said Kenosha County has seen an increase in development in general. The Amazon distribution center in the City of Kenosha and the Uline facilities in Pleasant Prairie and Kenosha are examples. Kerkman noted that while Foxconn is "a major addition, but it's an addition to everything we've been working on."
Kreuser added: "We're getting to the point where development is ramped up at a fast pace and developers are coming in with significant money for economic development."
Resident impact
While Foxconn-affected Mount Pleasant residents are receiving some compensation for their property and relocation benefits, residents of Somers near the project area are left on their own to make difficult decisions with no support from outside agencies.
Penny Johansen and her family don't know if they are going to sell their house in Somers or stay for now.
With two kids out of the house, one kid about to graduate high school and the youngest finishing freshman year at Indian Trail High School with aspirations of going to medical school, a home that was meant for six people is going to feel a little empty.
"We can't sell this viably as residential property because we're still underwater and nobody is going to want this place as a residential (property) next to that," Johansen said, gesturing toward Highway KR where the Foxconn plans to build its massive manufacturing campus.
"We're screwed."
Johansen and her husband bought their home in Somers, which sits on six acres of land at the intersection of 72nd Avenue and Highway KR, in 2001 for $209,000. In 2006, the property was at its highest value — $509,000 — after they put about $200,000 worth of work into the house.
"Then the economy tanked and we almost lost this place because my husband was laid off for a year," Johansen said. "It ate up our savings and I even cashed in my 401(k)."
Now the property is worth about $360,000 with a $500,000 mortgage and the Johansens are deciding on their next move.
"It's really tearing us apart; what do we do? Do we cut our losses and sell this place?" Johansen said. "Do we pull the (youngest) kid out of school? Or do we sit on this for four years, let our son graduate and then our (property) value will be through the roof but also what we're trying to buy is going through the roof."
On the south side of Highway KR and just slightly east of I-94 is Oakdale Estates, a manufactured home community with mostly retired residents.
Judy Stark, 73, and Jerry Mouw, 76, have been living there together since the mid-1980s.
"This has been a pretty good, quiet neighborhood here, but I don't think it will be with a factory right across the highway," Stark said in reference to Foxconn. "I like the country. I like it out here now. It's not going to be country."
For the people concerned about the traffic, Mouw said it won't be as bad as people think.
"Everybody gets shook up about it," Mouw said. "It won't bother me. We got that same sound at night, trucks and everything. You get used to it."
Neither Stark nor Mouw say they're going to move, unlike their neighbor David Salerno.
"We're looking to move," Salerno said, adding that he and his wife moved to Oakdale Estates when they retired. "I just assumed (Foxconn) would go to Janesville. Now I have to go a little further out so I can live in peace and quiet."
Salerno, who has a a sign on his door that reads "No Democrats or Liberals allowed," said despite the project affecting him directly, he is happy Republican leaders like Gov. Scott Walker, Assembly Speaker Robin Vos, R-Rochester, and House Speaker Paul Ryan brought Foxconn to the area.
"It's not a bad thing. It's bringing money in, it's bringing jobs in," Salerno said. "It'll be good for the area, it's just not going to be good for me."
Johansen, who said she has voted for both President Barack Obama and Donald Trump, said it has affected her views regarding the November gubernatorial election.
"Unfortunately President Trump is a businessman, I think he's a really good businessman, but he's looking at these big corporate companies making money instead of looking out for the little guy like us," Johansen said. "I think Gov. Walker seriously has an agenda … I will not vote for him because of this."
Keeping residents apprised
The Somers governments, town and village, have begun having monthly meetings about the Foxconn project. Johansen went to the first meeting on May 1 and said there was "a lot of tap-dancing" and felt that there were many questions left unanswered.
Mark Molinaro, chairman for the Town of Somers, which works closely with the larger Village of Somers, said he encourages residents to be part of the discussion.
"I don't care what the issue is, how big or how small, there's always going to be the criticism that people are left in the dark," Molinaro said. "The information is there to be had. The opportunities are there to be heard and be part of the conversation. You simply have to make the effort."
Molinaro understands the Foxconn project is "going to be a significant disruption" for the people that live in the area but it is "a worthwhile deal."
"There's an awful lot of conversation out there … and questions are being asked about available land, what type of development the village would support in certain areas," Molinaro said. "And we need to be prepared to move quickly but with a very well-thought-out plan for how we want to see that development materialize."
One area that gets Johansen emotional is the loss of farmland like hers.
"It's terrible," Johansen said. "It's not like you can knock those factories down and start those family farms again. It's never going to be the way that it used to be."
"It's really tearing us apart, what do we do? Do we cut our losses and sell this place?" Somers resident Penny Johansen

"When you have this big of a project there's going to be some bumps but we're trying to minimize the bumps." Kenosha County Executive Jim Kreuser